Virtual Event
Launch of the Defeating Meningitis by 2030 Roadmap
September 28, 2021 @ 9:00 am

-

10:30 am

EDT

Virtual Event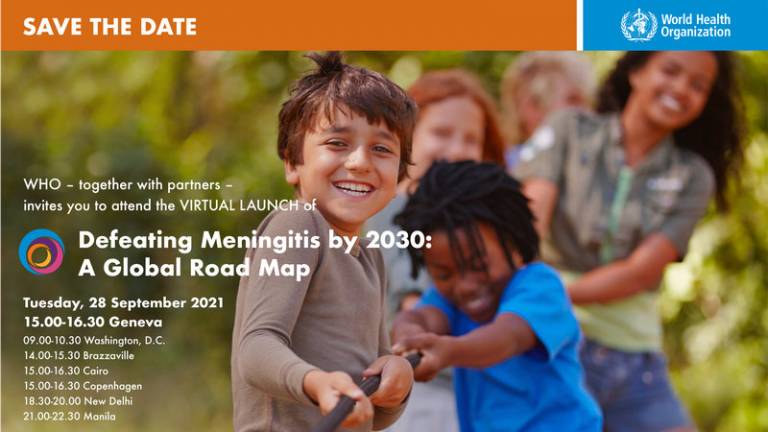 The impact of meningitis is as profound as it is diverse: it can kill within hours, disrupts health
systems, impedes education and child development, devastates families and communities, and causes
lifelong disabilities. Meningitis epidemics are unpredictable and can strike anywhere, affecting people
of any age, including healthy children and young adults.
Despite successful efforts to control meningitis in several regions, meningitis continues to be a major public health issue. It kills about 250 000 people annually, and leaves 1 in 5 of those affected with long-term devastating sequelae.
Dr Tedros Adhanom Ghebreyesus, Director-General of the World Health Organization and partners will be launching Defeating Meningitis by 2030: A Global Road Map on: Tuesday, 28 September 2021.  
The meningitis road map—developed though a robust, multidisciplinary consultation process—
represents an unprecedented opportunity to channel the wave of "defeat meningitis" momentum
into a concrete plan of action. Defeating meningitis is not only feasible, but also critical to the
achievement of the Sustainable Development Goals (SDGs) and will strengthen many aspects of the
health system – from disease surveillance, to immunization, to primary health care and universal
health coverage, to improving services for persons living with disabilities.
Implementing the road map is how the global community will come together to defeat meningitis. The five pillars of the road map each address a critical need in the fight against meningitis: prevention and epidemic control, prompt diagnosis and treatment, disease surveillance, support and care for people (and families) affected by meningitis, and advocacy and engagement. How do we leverage the road map to facilitate impact? This panel will share some of the major strides we have already made and provide a view on what the future holds.
Please visit the WHO's Launch of the Defeating Meningitis Roadmap website for more information