Molecular Med TRI-CON 2017
February 19, 2017

-

February 24, 2017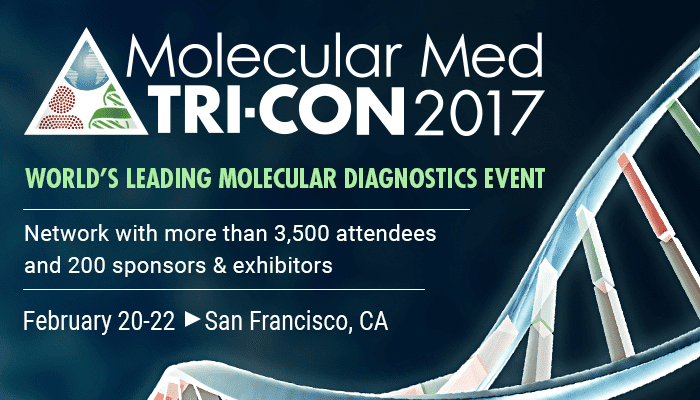 The Molecular Med TRI-CON 2017 conference event will be held February 19-24, 2017 in San Francisco, California.
This annual event focuses on molecular medicine research and methodologies, including discovery, genomics, diagnostics and information technology.
TRI-CON draws more than 3,500 drug discovery and development professionals and features 400+ sessions.
Main Conference Tracks Feb 20-22 include:
Molecular Diagnostics
Personalized Diagnostics
Cancer Molecular Markers
Circulating Tumor Cells and
Liquid Biopsy
Digital Pathology
Precision Medicine
PCR and NGS-Based Molecular Diagnostics
Clinical NGS Diagnostics
Genomic Sample Prep, Assay Development and Validation
Molecular Diagnostics for Infectious Disease
Cancer Immunotherapy
Combination Immunotherapy Design Models
Bioinformatics for Big Data
Integrated Pharma Informatics
Symposia Tracks Feb 22-24 include:
New Frontiers in CRISPR-Based Gene Editing
Circulating Cell-Free DNA
Point-of-Care Diagnostics
Biomarkers for Cancer Immunotherapy
NGS Diagnostics: Knowledge Bases, Annotation and Interpretation
Microbiome-Based Precision Medicine – New
Commercialization of Molecular Diagnostics
Please visit the Molecular Med TRI-CON 2017 website for more information and to register.
Global Biodefense is an official media partner of Molecular Med TRI-CON 2017.