RNA Therapeutics 2017
February 22, 2017

-

February 23, 2017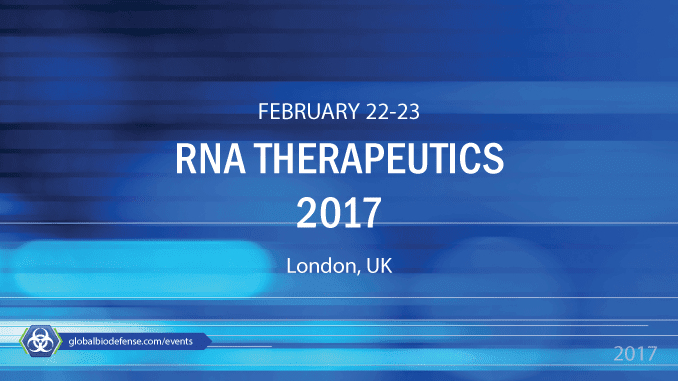 SMi Group's 2017 RNA Therapeutics conference will be held February 22-23, 2017 in London, United Kingdom.
This conference intends to review clinical trial updates in RNA- based therapeutics and discuss the current regulations involved in getting drug approval.
Highlighted sessions include:
RNA activation and its clinical application
Collaborating to deliver macromolecules across biological barriers
Delivery of MRNA using the Viromer system
Therapeutic antisense oligonucleotides in oncology
RNA therapeutics harnessing the potential of locked
Cell entry of exosomes as a novel paradigm for therapeutic RNA delivery
RNAI and tumor microenvironment: pre-clinical and clinical evidence
Antisense in the fourth decade: Third generation antisense fulfilling the promise
Interacting with the medicines regulator on RNAI therapies
Nano-therapeutics; the best of all possible worlds?
Intravenously injectable RNA nanomedicines as cancer vaccines: case study with RNA-lipoplexes
Spherical nucleic acids: Structures for topical gene regulation
Please visit SMi's RNA Therapeutics conference website for more information and registration.