NCT Europe 2017
June 27, 2017

-

June 29, 2017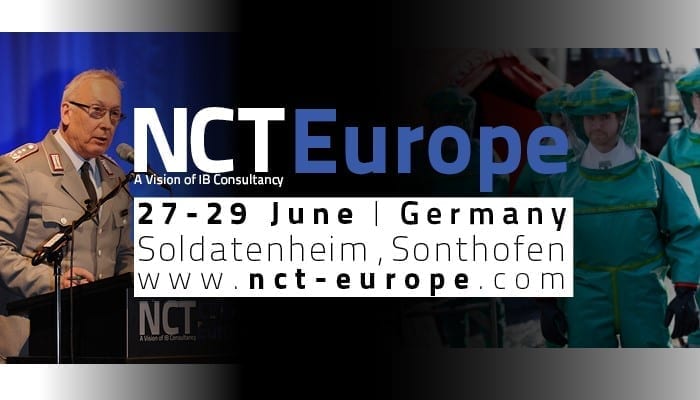 The Non-Conventional Threat NCT Europe 2017 conference and exhibition will be held June 27-29, 2017 in Sonthofen, Germany.
NCT Europe 2017 will host two separate conferences, NCT CBRNe Europe and NCT eXplosive Europe, with a shared exhibition area and joint plenary sessions.
The three-day event will be opened by a multinational CBRN/C-IED/EOD demonstration led by the German, Austrian, Dutch, French and Swiss Armed Forces, followed by two days of conferences, as well as a large indoor and outdoor industry exhibition.
The conference will emphasize biological threats and response, operational decontamination and recovery, nuclear disaster preparedness, and operational readiness of European CBRN Defense Commands.
Highlighted sessions include:
Current Trends in Biological Defense and Security
Developing a European Multinational Operational Framework for Countering Threats
Effective Response to CBRN Related Incidents and Attacks
Case Studies – ISIS and The Growing Threat of Explosive Terrorist Attacks
Chemical and Radiological Detection: New Approaches and Technologies
Civil Protection in Densely Populated Areas and High Visibility Events
Requirements in CBRN Detection, Reconnaissance and Analysis
Civil and Military Cooperation in Cases of CBRN Emergency Response
Please visit IB Consultancy's NCT Europe 2017 website for more information and registration.
Global Biodefense is an official media partner of NCT Europe 2017.