Biodefense World Summit 2017
June 26, 2017

-

June 29, 2017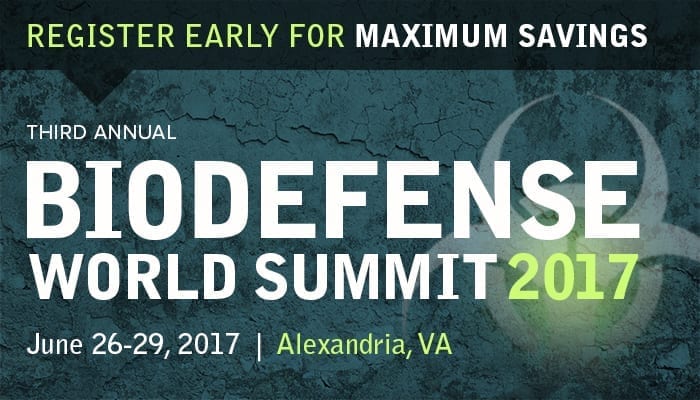 The 3rd Annual Biodefense World Summit will be held June 26-29, 2017 in Alexandria, Virginia.
The Biodefense World Summit brings together leaders from government, academia, and industry for compelling discussions and comprehensive coverage on pathogen detection, sample prep technologies, point-of-care, and biosurveillance.
Across the four-track event, attendees can expect exceptional networking opportunities in the exhibit hall, across panel discussions, and shared case studies with members of the biodefense community from technology providers to policy makers.
Highlighted sessions and workshops include:
Rapid Surveillance of the Ebola Genome Sequence with Microarray Technology
Field Portable Platforms for Multiplex Detection of Biothreat Agents
Agro-Defense – A Holistic, All of Enterprise Approach
Nuclease-Activated Probes for Rapid, Target-Specific Detection of Bacterial Pathogens
A Smart Phone Platform for Detection of Zika Virus RNA in Low Resource Settings
Diagnostics for the Public Health Emergency Medical Countermeasures Enterprise
Food Safety Microbiology in the Metagenomics Era
Conserved Nucleotide Binding Site (NBS) for Rapid Assay Development
Advances in Flow Cytometry for Rapid Detection of Foodborne Pathogens
Microbiome Composition as a Universal Biosensor
BioWatch – Implementing Key Program Priorities over the Next Five Years
Development of 11-Plex MOL-PCR Assay for the Rapid Screening of Samples for STEC
Genomic-Based Characterization and Biosurveillance of Known and Unknown Microorganisms of Biodefense Relevance
Nucleic Acid Biosensors for the Detection of Pathogens
Rapid Detection of Enterobacteriaceaeas Indicator for Pathogen Testing Using a Light Scattering Sensor
Please visit Cambridge Healthtech Institute's BiodefenseWorldSummit.com for more information and to register.
Global Biodefense is an official media partner of the Biodefense World Summit.