NCT Middle East 2017
November 6, 2017

-

November 8, 2017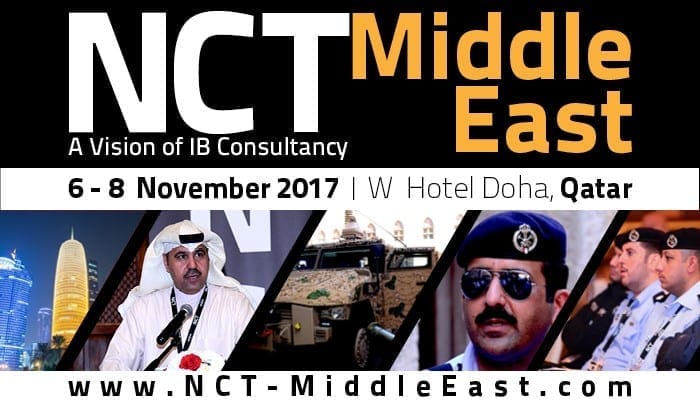 The Non-Conventional Threat NCT Middle East 2017 event will be held Nov 6-8, 2017 in Doha, Qatar.
NCT Middle East 2017 will welcome over 20 Qatari and international government organizations. Additionally, IB Consultancy has partnered with the National Committee for the Prohibition of Weapons (NCPW) in organizing this 4th edition of NCT Middle East.
Highlighted speakers include:
Gen.(Air), Hassan Saleh Al-Nesf, Deputy Chairman, National Committee for the Prohibition of Weapons (NCPW), Qatar
Gen.(Air), Hassan Saleh Al-Nesf, Deputy Chairman, National Committee For The Prohibition of Weapons (Ncpw), Qatar
Eng. Hassan Mohammed Al Emadi, Commander of the Center for Chemical Defense And Radiation Monitoring, Intelligence and Security Unit, Qatar Armed Forces, Qatar
E. Nizar Al Herakey, Syrian Ambassador to Qatar, Syria
Saber Khalaf M. Abu Sbieh, Commander, Jordanian Armed Forces (Jaf), Royal Engineering Corps – Chemical Support Unit (CSU), Jordan
Eng. Ali Hassan Al-Rashid, Commander of Security Systems & Technology, Explosives Group, Lekhwiya, Qatar
Staff Brig. Gen. Abdullah M. Albaker, National Defense & Crisis Management Center, Qatar Armed Forces, Qatar
Martin Neujahr, Head of Global Business Unit CBRN, Bruker Detection, Germany
Jon Beville, Director Global Sales & Business Development, Heyltex, Usa
Colonel (R) Wolfgang Widders, Senior Advisor for CBRN Protection Systems, Kärcher Futuretech Gmbh, Germany
Levent Kenar, PhD, Chief of CBRN Department, University of Health Sciences (Gulhane Military Medical Academy), Turkey
Walid Othman Abougalala, Medical Technical Consultant for Disaster Preparedness, Hamad Medical Corporation, Qatar
Raed Saleh, Chief of the White Helmets, Syrian Civil Defence, Syria
Hamad Salah Ibrahim, Head of Radiation Protection Section and Nuclear Engineer, Department of Radiation & Chemical Protection, Ministry of Municipality and Environment, Qatar
Osama Abualezz, Manager of Aleppo Office, Syrian American Medical Society (SAMS), Syria
Mohamed Nazir Alhakim, Secretary General, National Coalition of Syrian Revolution And Opposition Forces, Syria
Daw Saad Mosbah Khalefah, Director of Scientific Affairs, Nuclear Safety and Security Department, Arab Atomic Energy Agency (AAEA), Tunisia
Maha Ali Y. Al-Hammadi, Head Of Chemical Management Section (CMS), Department Of Radiation and Chemical Protection (RCP), Ministry Of Municipality And Environment, Qatar
Jassim Mohammed Alkaabi, National Security Manager, Supreme Committee for Delivery & Legacy, Qatar
Please visit IB Consultancy's NCT Middle East 2017 website for more information and to register.