Virtual Event
Side Meeting at the 6th Global Health Security Agenda Ministerial Meeting
November 4, 2020 @ 7:00 am

-

9:00 am

EST

Virtual Event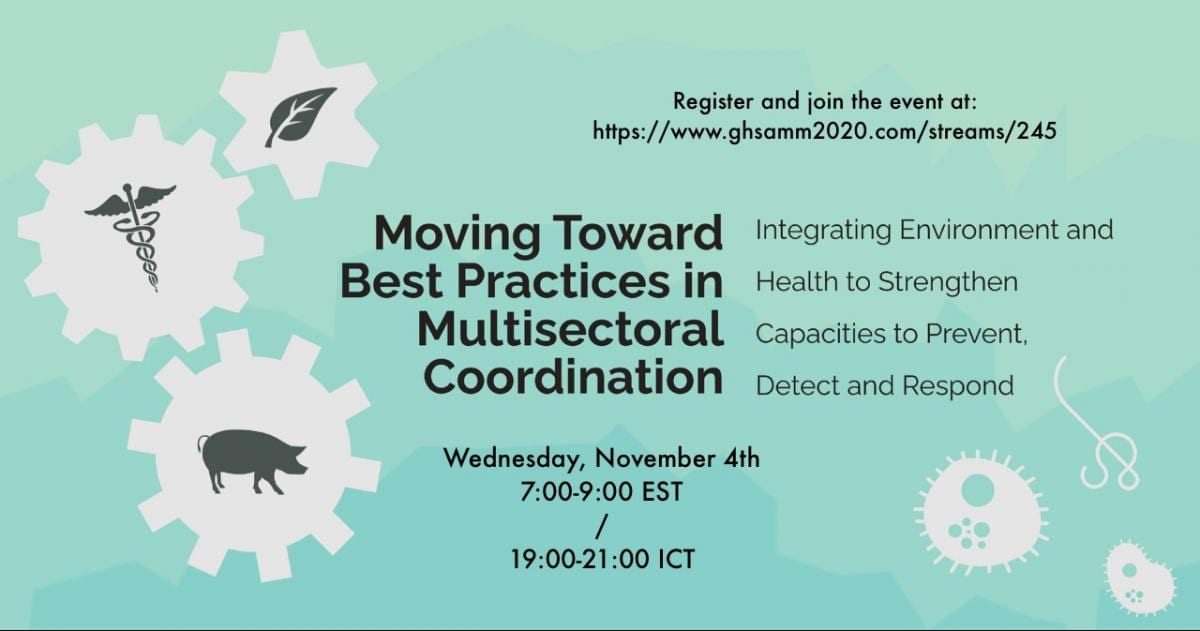 The GHSA Consortium for the GHSA Task Force on Advocacy & Communications will host a Side Meeting at the 6th Global Health Security Agenda Ministerial Meeting on 4 November 2020.
This side event will highlight promising practices for meaningfully expanding partnerships across human, animal, agriculture, and environmental sectors to improve health outcomes and local, national, and global health security.
Highlighted topics include:
Identifying good, better, and best practices
Wildlife and environment: Connections to health security
Fostering multisectoral coordination in countries to effectively contain antimicrobial resistance
Communicating across sectors: Early warning systems and preparedness
Sustaining engagement with environment sector partners: Systems, processes, capacity and resources
The event will take place 0700-0900 EST (New York) and 1900-2100 local (Thailand).
Please register via the GHSA Ministerial website. Once registered, the event will be broadcast from: https://www.ghsamm2020.com/streams/245
About GHSA
The Global Health Security Agenda (GHSA) 2024 Framework emphasizes the importance of engaging all relevant sectors to achieve sustainable and measurable results toward common targets for global health security. Changing conditions at local and global scales – related to deforestation and habitat loss, wildlife trade, and changing food systems and agricultural intensification with inadequate biosecurity – are shaping novel and increased interactions between species that facilitate opportunities for the spillover of disease.
The consequences are striking: more than 70% of emerging zoonotic diseases have origins in wildlife, and climate-sensitive vector-borne diseases are appearing in new regions, together causing extensive health and economic impact. The same drivers, combined with the misuse and overuse of antibiotics, have accelerated the emergence of antimicrobial resistance (AMR) among interconnected microbiomes in humans, animals, and the environment, which can be spread across borders through trade, travel, and other movement of people and animals. Understanding the links between the environment and health risks and outcomes is critical to enhancing surveillance and detection, develop early warning systems, and target multisectoral risk reduction strategies to address known and novel threats.