Superbugs & Superdrugs 2017
March 20, 2017

-

March 21, 2017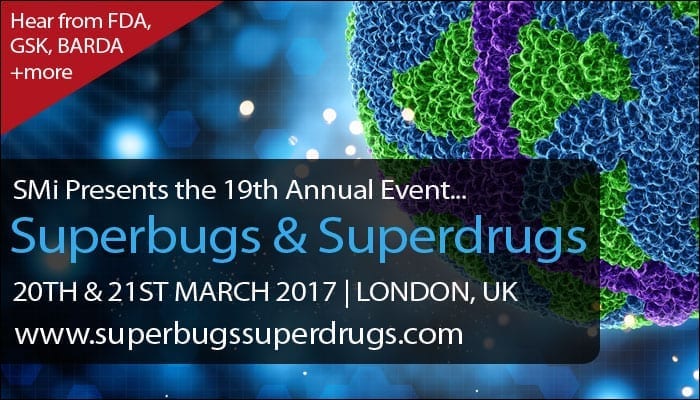 The 19th Annual Superbugs & Superdrugs annual global event will be held March 20-21, 2017 in London, UK.
The industry's premier event on antibiotic resistance will provide a perfect platform for its growing "superbugs" community to network, exchange novel solutions and consolidate current strategies.
Expanding horizons on the growing threat of anti-microbial resistance (AMR) for almost two decades, the flagship show in the global Superbugs portfolio of events will once again play host to an international audience of scientific leaders, funding bodies and drug discovery specialists, providing a focal point to push industry collaboration through updates on clinical advancements and investment opportunities.
The threat of AMR is regularly making front page news but what is the industry actually doing? Are drug manufacturers any closer to finding a solution and how is the government helping? These will be just some of the questions answered through powerful keynote addresses delivered by an expert panel of speakers from big pharma, biotech, industry and leading government bodies including BARDA, the FDA, GSK, Actelion and more.
Highlighted topics include:
The latest developments in antimicrobial peptides
Ground-breaking innovations in antibacterial chemotherapy
Comprehensive overview of government funding initiatives
A showcase on novel approaches to enabling antibacterial activity against Gram-negative pathogens
Guidance on antibiotic stewardship
Updates on clinical progress
New spotlight on animal models in drug discovery
Hand on training through CPD certified interactive workshops
In addition, the Director of the FDA Antibiotics Division will present the regulatory perspective on antibacterial drug development.
To register visit http://www.superbugssuperdrugs.com/globalbiodefense.
Global Biodefense is an official media partner of SMi Group's Superbugs & Superdrugs 2017.