Superbugs & Superdrugs USA
November 13, 2017

-

November 14, 2017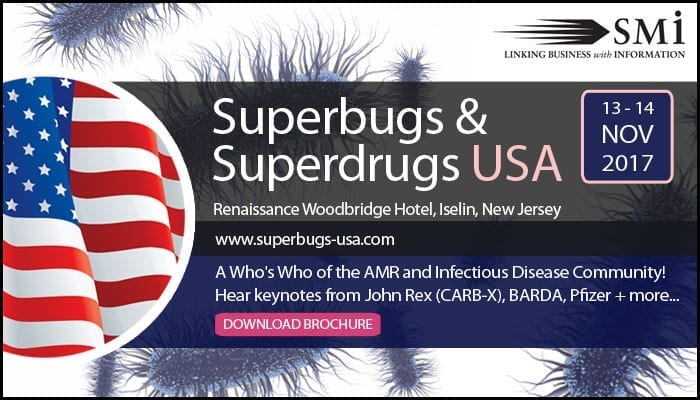 SMi Group will host this year's Superbugs and Superdrugs USA on November 13-14, 2017 in Iselin, New Jersey.
Antimicrobial resistance has sparked an urgency in the development of new drugs as the industry strives for novel solutions to fight infectious diseases. Innovation and collaboration is requested at every level making Superbugs & Superdrugs USA, the perfect platform to strengthen knowledge in key principles such as funding incentives and global strategy, whilst honing in on clinical developments in areas such as immunotherapy, toxoid based vaccines and anti-body drug conjugates.
As methods move away from traditional small molecule antibiotics, this is critical time for AMR experts, government bodies and industry leaders, to come together and share ideas on the latest developments in treatment and prevention.
Featured Speakers Include:
Anthony Simon Lynch, Senior Scientific Director, Janssen
William Weiss, Director, Pre-Clinical Services, UNT Health Science Center
John Rex, Chief Medical Officer & Director, F2G; Chief Strategy Officer, CARB-X
Christopher Houchens, Branch Chief, Antibacterials Program, BARDA
Annaliesa Anderson, Vice President & CSO Bacterial Vaccines, Pfizer
Olga Danilchanka, Microbiome Lead, Merck
Christopher McMaster, President & CEO, DemovaMed
Obadiah Plante, Director of Research, Visterrra
Tim Opperman, Senior Research Scientist, Microbiotix
Ken Stover, Senior Director, Infectious Diseases and Vaccines, MedImmune
Mike Westby, Director, Centauri Therapeutics
Agenda highlights:
Guidelines for successfully seeking funding and partnership with updates on the CARB-X initiative
Understand the importance of supporting natural immunity and the microbiome for reducing infection from resistant bacteria
New insight into developments for treating gram-negative infections
Explore the emerging and non-traditional approaches to antimicrobial drug development, including biologic drugs and combination treatments
For further information visit http://www.superbugs-usa.com/globalbiodefense or contact the team on Tel: +44 (0)20 7827 6000 / Email: events@smi-online.co.uk
Global Biodefense is an official media partner of Superbugs & Superdrugs USA.