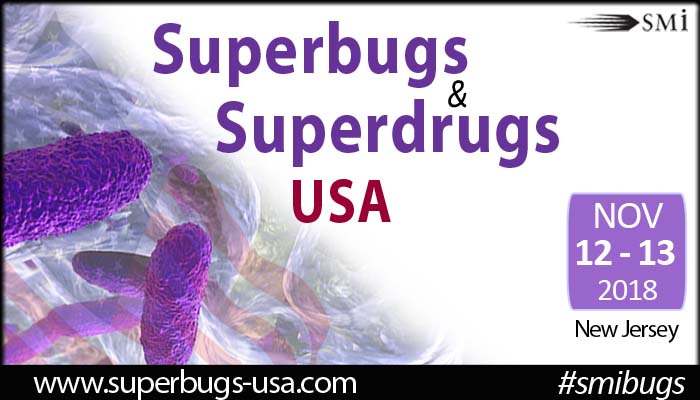 The 2018 Superbugs & Superdrugs USA conference will be held 12-13 November 2018 in Iselin, New Jersey.
This 3rd annual Superbugs & Superdrugs USA conference will help participants to learn about pathogen focused drug development; discover the best methods to overcome bacterial resistance through novel modes of action; discuss the state of developments within the antifungal space; develop an understanding of funding opportunities which support antibacterial research and development; gain insight into new techniques through case-study examples of rapid diagnostic methods currently being used within the field, making this event the perfect platform to strengthen knowledge in key principles.
Speakers include:
Anthony Simon Lynch, Senior Scientific Director, Janssen
William Weiss, Director, Pre-Clinical Services, UNT Health Science Center
Tina Guina, Program Officer, Drug Development Section, NIAID/NIH
Mark Albrecht, Project Officer, HHS/ASPR/BARDA
Antonio DiGiandomenico, Principal Scientist, MedImmune
Andrew Tomaras, VP & Director of Microbiology, Bacterioscan
Dan Pevear, Sr Vice President & Director of Microbiology, VenatoRx
Ian Friedland, Clinical Consultant, ex-CMO, Achaogen
Highlighted session topics include:
Rapid Diagnostics for Drug Resistance: Are We There Yet?
NIAID Funding and Resources for Development of Anti-Infectives
Overcoming Bacterial Resistance Through A Novel Mode of Action
Avoiding the Post Antibiotic Era: The Challenges and Solutions to Successful Commercialization of New Antibiotics
Epidemiology, Resistance and Treatments of GI Related Infectious Disease
Practical Clinical Diagnostic Applications Using Laser Light-Scattering: Utility, Adoption, And Opportunities
Supporting Antibacterial Research and Development
Discovery and Evaluation of Inhibitors of Intermediary Metabolism as Novel Antibiotics Against Gram-Negative Bacterial Pathogens
CMC Strategies for Novel Antibiotic Drug Development
Pathogen-Focused Drug Development: Buyer Beware
VNRX-5133: A Highly Potent and Broad-Spectrum Inhibitor of Both Serine and Metallo Beta-Lactamases
A Novel Fluorocycline Antibiotic with Potent Activity Against Carbapenem-Resistant Gram (-) Organisms
Please visit the event website for further details http://www.superbugs-usa.com/GBDWL or contact Luda Durneva: +44 (0)20 7827 6000 ldurneva@smi-online.co.uk
Stay up to date by following SMi on Twitter @SMIpharm #smibugs and LinkedIn SMi Pharma.
Global Biodefense is an official media partner of Superbugs & Superdrugs 2018.