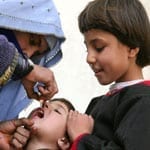 How has the CIA's decision to send a vaccination team into the Bin Laden compound to gather information and DNA samples hurt the global drive for polio eradication?
In Pakistan, where the disease has never been fully wiped out, suspicions run high and vaccination personnel in some regions have been accused of being spies. Last month, Taliban commanders in North and South Waziristan banned
polio vaccination teams.
Read one perspective from Time Magazine: How a Ban on Polio Vaccination in Parts of Pakistan Puts the Entire World at Risk