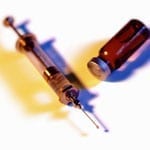 The National Institute of Allergy and Infectious Diseases (NIAID) is soliciting proposals for development of products for treatment of radiation exposures resulting from nuclear and radiological attacks.
Under a new Broad Agency Announcement (BAA), the institute is seeking organizations with the capabilities to advance the development of candidate medical countermeasures (MCMs) for gastrointestinal acute radiation syndrome (GI-ARS).
NIAID anticipates that research and development studies supported by this BAA will advance candidate MCMs toward eventual FDA approval or licensure for GI-ARS. Offeror are expected to provide a Statement of Work describing the stage of the candidate and the work that needs to be performed to advance the MCM.
It is anticipated that 2-4 contracts will be awarded for a 3-year period of performance beginning on or about July 15, 2013.
The NIAID Division of Allergy, Immunology and Transplantation has oversight on this activity. The full BAA is estimated to be released on August 15, 2012. Further details are available under Solicitation Number: BAA-NIAID-DAIT-NIHAI2012147. The current proposal deadline is November 15, 2012.