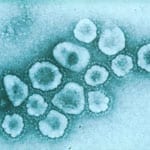 Health officials are investigating a new respiratory virus related to SARS that is believed to have killed at least one person in Saudi Arabia. Another person, a 49-year-old male reported to have recently traveled to Saudi Arabia, is currently in critical condition at a hospital in London.
The patient was initially admitted to an intensive care unit in Doha, Qatar, on September 7. He was transferred to the United Kingdom by air ambulance on September 11 and is suffering from acute respiratory syndrome and renal failure.
The suspected culprit is a coronavirus, the same family of viruses that caused the 2003 severe acute respiratory syndrome (SARS) epidemic that killed some 800 people, primarily in Asia.
While word of a coronavirus outbreak immediately puts health officials on alert, there is very little information at this point to determine whether the virus could spread as rapidly as SARS or even the method of disease transmission.
Coronaviruses are typically spread in the air but Gregory Hartl, a World Health Organization (WHO) spokesman, said it is still unclear how this virus is spreading. He said there was no evidence yet of any human-to-human transmission and all possible sources are being explored. (Source: AP)
"For now, we need to be watchful – any evidence of human-to-human transmission causing severe disease would be very worrying and would raise the spectre of a new SARS-like outbreak," said Professor Peter Openshaw, Director of the Centre for Respiratory Infection at Imperial College London. "The hope for now is that these cases are just highly unusual presentations of a generally mild infection, and that viral surveillance and detection is now so good that we are picking up cases that would not have been found in previous times." (UKPA)
Saudi officials have expressed concern for the upcoming Hajj pilgrimage next month, which brings millions of people to Saudi Arabia from all over the world, and could provide more opportunities for the virus to spread. Efforts are underway to encourage protective hygiene measures for Hajj visitors.
Coronavirus image courtesy of Clinical Lab Sciences – Northern Michigan University