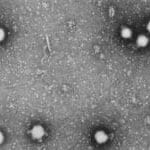 A 38-year-old man is currently in critical condition in a London hospital with a confirmed diagnosis of Crimean-Congo Viral Hemorrhagic Fever.
The man flew from Kabul in Afghanistan to Dubai, with a connecting Emirates flight EK027, which arrived in Glasgow at 12.35 pm on Tuesday. Several hours later he was admitted to a specialist unit at Gartnavel General Hospital in Glasgow, then transferred this morning by helicopter to the Royal Free London NHS Foundation Trust.
The risk of person-to-person transmission of the virus is extremely low. However, as a precautionary measure passengers seated in close proximity on the flight from Dubai to Glasgow are being contacted and staff handling the patient's blood will be under observation for 14 days.
"Given the fact that this man went into the care of the NHS within three hours of his flight arrival in Glasgow and traveled directly home via private transport from the airport we are confident that his close contacts subsequently within the city were minimal," stated a spokesman for the National Health Service. "We have also identified all NHS staff, airport and airline staff who have had contact with the patient and any necessary follow-up action will be taken." (Source: BBC)
Crimean-Congo Viral Hemorrhagic Fever (CCHF) is fatal for 10-40% of people infected. The virus can only be transmitted by direct contact with infected blood or body fluids, and is not transmitted through the air. The incubation period is estimated to be between 3 and 6 days.
Onset of CCHF begins abruptly with fever, headaches, and severe back and abdominal pain. It progresses to extensive hemorrhages from almost any body site. Most cases show signs of hepatitis, with juandice, heptomegaly, and elevated serum levels of liver enzymes. Red eyes, a flushed face and red spots in the throat are also common.
There is currently no safe vaccine for CCHF. Patients are typically treated with an anti-viral drug called ribavirin.