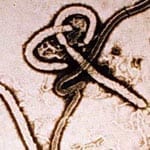 A wide consortium of investigators led by the U.S. Army Medical Research Institute of Infectious Diseases (USAMRIID) has published findings on a proof-of-concept for use of a monoclonal antibody cocktail to prevent the lethal Ebola disease in infected rhesus macaques.
The antibody mix was developed from monkeys that had previously survived challenge with lethal doses of filoviruses under controlled laboratory conditions. These survivors had developed high levels of antibody to ward off disease. Investigators collected blood serum from these animals, purified it and tested it for virus-neutralizing activity.
When the developed cocktail, known as MB-003, was administered one hour after infection, all of the animals survived. Two-thirds of the animals were protected even when the treatment was administered 48 hours after infection, a surprising success rate for such a lethal disease. The promising results will be published in this week's online edition of the Proceedings of the National Academy of Sciences (PNAS).
The work is the culmination of more than a decade of effort between government and industry partners with funding from multiple agencies including the National Institutes of Health, the Defense Advanced Research Projects Agency, the Transformational Medical Technologies Initiative, and the Defense Threat Reduction Agency.
"It is rare that an antiviral compound prevents Ebola virus infection with limited to no morbidity in treated animals at any point of treatment following infection by this lethal virus," said Gene Olinger, Ph.D., USAMRIID virologist and lead investigator of the consortium. "Until recently, attempts to utilize antibodies to provide protection against Ebola virus have been met with failure. The level of protection against disease that we saw with MB-003 was impressive."
Another ground-breaking aspect of the research is the application of tobacco plant-based production systems, at Kentucky BioProcessing (KBP), for creating the antibody lots. The new development process significantly decreased the amount of time required for production over traditional methods, increases the quantity of antibody produced, and slashes the cost of manufacturing.
Olinger said efforts are underway to advance MB-003 to clinical safety testing as his team at USAMRIID continues to determine the true therapeutic capability of the cocktail.
Source: EurekAlert