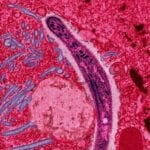 The Naval Medical Research Center (NMRC) Malaria Program, in pursuit of a long-term goal of developing malaria vaccines to protect U.S. military personnel, is advancing their adenovirus-based vaccine platform efforts with a recent contract award to GenVec of Gaithersburg, Maryland. 
Adenovirus vector platforms have been demonstrated to induce potent anti-malaria immune responses. However, the existing human adenovirus serotype 5 (HuAd5) vaccine constructs need to be replaced by new constructs derived from a rare adenovirus serotype in order to avoid pre-existing immunity, which is common with HuAd5.  In adults, The HuAd5 neutralizing antibodies rates range from 35% in the US to greater than 90% in sub-Saharan Africa. 
GenVec has developed several novel and proprietary non-human serotypes of adenovirus that are highly immunogenic in animals and not subject to neutralization by pre-existing immunity. NMRC was able to conduct preliminary research with these novel serotypes under a Cooperative Research and Development Agreement (CRADA) with GenVec. Preliminary results demonstrate that they are equally or more protective than HuAd5, indicating their suitability as replacements.  No other vector tested by NMRC has matched the protection afforded by HuAd5, despite many attempts over the past two years.  
In support of NMRC intention to manufacture three new GMP constructs for human use, GenVec will provide NMRC Vector Seed Stock (VSS), Clinical Seed Stock (CSS) and Master Viral Bank (MVB)/Clinical Trial Material (CTM) of three adenovirus vectors encoding three Plasmodium falciparum sporozoite/liver stage antigens. 
The National Institute of Allergy and Infectious Diseases Vaccine Research Center (NIAID VRC) has previously chosen GenVec's HuAd5 constructs and conducted extensive testing of the subject cell line in order to qualify it for GMP production of adenovectors to be used in healthy adult human volunteers.
As federal agency partners, NMRC has been permitted to cross-reference VRC's cell line references and FDA regulatory documentation, offering a significant cost-savings to the government and incentive to continue working with the GenVec proprietary line.
The contract is worth $3,735,193.00 with an anticipated period of performance of a 36-month base period with two 12-month option periods for maintaining a stability program. The contract was announced under Solicitation Number: N62645ADMANUF.
View profile: Naval Medical Research Center (NMRC)