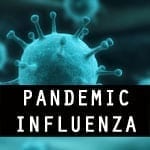 Emergent BioSolutions Inc., maker of the only U.S. approved anthrax vaccine, announced at the end of 2012 it has signed a license agreement with VaxInnate Corporation under which Emergent acquired the exclusive right to manufacture and sell VaxInnate's pandemic influenza vaccine candidate.
Last year the Biomedical Advanced Research and Development Authority (BARDA) established Emergent as one of several Centers for Innovation in Advanced Development and Manufacturing under an initial 8-year, $163 million contract . BARDA requirements to secure a pandemic influenza cadidate were fulfilled by the deal between VaxInnate and Emergent.
"This transaction, which secures manufacturing rights to a next-generation pandemic influenza vaccine candidate, is a step towards satisfying Emergent's commitment to BARDA as a Center for Innovation in Advanced Development and Manufacturing," Daniel J. Abdun-Nabi, president and CEO of Emergent, said in a statement. "Our public-private partnership with BARDA, which taps into our core manufacturing capabilities and infrastructure, provides a real opportunity to make significant progress to address the nation's medical countermeasure manufacturing requirements."
VaxInnate utilizes Toll-Like Receptors (TLR) technology to produce vaccines as soluble biopharmaceutical grade proteins in bacteria.  The approach relies on the immune system to recognize certain molecular patterns associated with invading pathogens, triggering an adaptive immune response including the production of antibodies. The company's vaccines combine proteins of vaccine antigen (such as the influenza HA) and bacterial flagellin, a component of the long hair-like tails that help bacteria swim and one of the molecular patterns recognized by TLRs.
Physically linking flagellin to antigens leads to a more potent vaccine than just administering a mixture of the two unattached components. The method has been demonstrated to produce robust protective immune responses in animal models to several pathogens including Dengue Virus, Japanese Encephalitis Virus and West Nile Virus, in addition to influenza. Because flagellin is a stable bacterial protein, these fusion products are simple to make using recombinant DNA techniques. The ability to rapidly develop and manufacture large quantities of the fusion product vaccines makes them ideally suited for responding to seasonal variants of influenza, or emerging pandemic viruses.
VaxInnate will continue to develop the candidate under its current contract with the Biomedical Advanced Research and Development Authority, while Emergent will produce it, using flexible manufacturing technology.