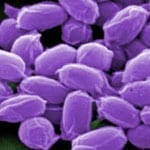 The U.S. Food and Drug Administration on December 14, 2012 approved raxibacumab injection to treat inhalational anthrax, a form of the infectious disease caused by breathing in the spores of the bacterium Bacillus anthracis. Raxibacumab also is approved to prevent inhalational anthrax when alternative therapies are not available or not appropriate.
Raxibacumab is a monoclonal antibody that neutralizes toxins produced by B. anthracis that can cause massive and irreversible tissue injury and death. The anthrax treatment developed by Human Genome Sciences of Rockville, Md, in conjunction with the U.S. Department of Health and Human Services' Biomedical Advanced Research and Development Authority (BARDA). Human Genome Sciences has since been acquired by GlaxoSmithKline.
The FDA granted raxibacumab fast track designation, priority review, and orphan product designation based on the drug's demonstrated potential to fill an unmet biopreparedness need. Raxibacumab is the first monoclonal antibody approved under the FDA's Animal Efficacy Rule, which allows efficacy findings from adequate and well-controlled animal studies to support FDA approval when it is not feasible or ethical to conduct trials in humans.
"In addition to antibiotics, raxibacumab will be a useful treatment to have available should an anthrax bioterrorism event occur," said Edward Cox, M.D., M.P.H, Director of the Office of Antimicrobial Products in FDA's Center for Drug Evaluation and Research. "Although antibiotics are approved to prevent and treat anthrax infection, raxibacumab is the first approved agent that acts by neutralizing the toxins produced by B. anthracis."
Raxibacumab's effectiveness for inhalational anthrax was demonstrated in one study in monkeys and three studies in rabbits. All animals were administered aerosolized B. anthracis spores, and efficacy was determined by survival at the end of the studies. Animals received varying doses of raxibacumab, placebo or antibiotics normally used to treat anthrax.
More animals treated with raxibacumab lived compared to animals treated with placebo. Sixty-four percent of animals in the monkey study and 44 percent of animals in one rabbit study receiving the 40 milligrams per kilogram dose of raxibacumab survived exposure to anthrax, compared with none in the placebo groups. All surviving animals developed toxin-neutralizing antibodies. Another study in rabbits showed that 82 percent of animals treated with antibiotics and raxibacumab survived exposure to anthrax compared with 65 percent of animals receiving antibiotic treatment alone.
The safety of raxibacumab was evaluated in 326 healthy human volunteers. Common side effects included rash, extremity pain, itching and drowsiness.
Source: FDA News Release