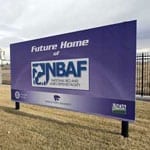 The stalemate over federal funding for the National Bio and Agro-Defense (NBAF) animal disease laboratory at Kansas State University is on the verge of breaking, according to Senator Pat Roberts, (R-Kan).
Sen. Roberts said in an interview Wednesday that the Department of Homeland Security (DHS) will soon announce its plans to release funds to get started with construction of the lab's $40 million central utilities plant. The Senator stated he expects the announcement sometime in the next week.
Sen. Jerry Moran, (R-Kan), who is on the Senate Appropriations Committee, said the committee received word Tuesday morning that DHS has awarded a contract for $40 million in utility work for the facility.  Moran further stated that the bids for the utility work were to expire at the end of February and without forward movement the agency would have to more funds and time to collect new bids.
The National Bio and Agro-Defense Facility (NBAF) was left out of White House's budget proposal altogether last year, stating that DHS held back on funding requests in the 2013 budget proposal while it awaited an updated NBAF Risk Assessment.
Administration and DHS officials also acknowledged the path forward needed further assessment in light of budget constraints and over the summer tasked the National Research Council (NRC) to review national requirements for animal disease research and options for providing the necessary facilities to meet those needs, including keeping the current research at the aging Plum Island Animal Disease Center in New York.
The panel rejected the option of continuing the mission at Plum Island, and proposed options for potential savings by moving forward with a pared-down version of the facility planned for Kansas. The NBAF campus would still construct a Biosafety Level 4 (BSL-4) laboratory capable of handling such highly contagious diseases as foot and mouth virus (FMD) and maintain core functions in the role of a central lab; but would distribute some research areas to existing laboratories across the country.
It remains to be seen how the looming federal budget sequestration cuts may impact forward movement of the NBAF project.