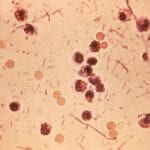 Researchers have launched an early-stage human clinical trial of two related candidate vaccines to prevent infection with Shigella. Antibiotics are the standard treatment for patients with shigellosis, but drug-resistant strains of the bacterium are becoming more common and the U.S. government is working towards a preventative vaccine. 
The Phase I clinical trial, funded by the National Institute of Allergy and Infectious Diseases (NIAID), will evaluate the live, attenuated vaccines for safety and their ability to induce immune responses among 90 healthy adults ages 18 to 45 years. The trial is being conducted at the Cincinnati Children's Hospital Medical Center, one of the eight NIAID-funded Vaccine and Treatment Evaluation Units in the United States. 
Known as WRSs2 and WRSs3, both vaccines target Shigella sonnei, one of the bacteria's four subtypes and the cause of most shigellosis outbreaks.  The candidates have been found to be safe and effective when tested in nonhuman primates, and are based on a precursor vaccine called WRSs1, which was found to be safe in small human trials in the U.S. and Israel. Researchers at the Walter Reed Army Institute of Research (WRAIR) developed all three versions of the vaccine. 
Shigellosis causes an estimated 90 million cases of severe disease each year and 108,000 deaths, most of which occur in the developing world and affect children under 5 years of age. In the United States, 14,000 shigellosis cases are reported annually, with most cases occurring among children ages 1 to 4 years. 
The pathogen is important not only to global public health, but also to military force protection and readiness. The U.S. Department of Agriculture Food Safety Inspection Service (FSIS) this summer implemented routine verification testing for six Shiga toxin producing Escherichia coli (STEC) pathogens. Shiga toxin is the same toxin as is produced by Shigella. The new targets are in addition to long-standing test requirements for serotype E. coli O157:H7 
The U.S. military recently invested in the development of food pathogen tests for the JBAIDS biodetector, including for the target Shigella spp. 
Additional information about the clinical trial is available at ClinicalTrials.gov under the identifier NCT01336699.
Source: NIAID