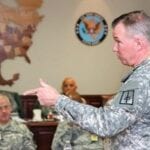 Senior National Guard officers traveled to U.S. Army North Headquarters at Fort Sam Houston, Texas earlier this month for the Dual Status Commanders Orientation Course. The event served as a forum for advanced discussion on the methods, capabilities and services federal ground forces can provide a commander.
"Dual status commander" refers to the ability of a National Guard officer to command both federal (Title 10) and state (Title 32) forces during a natural disaster or chemical, biological, radiological or nuclear (CBRN) emergency.
Recognizing the convergence and growing scope of state and Federal military domestic missions following 9/11, Congress amended Title 32 in the 2004 National Defense Authorization Act, permitting National Guard commanders to retain their state commissions after being ordered to Active duty. This change allowed a National Guard officer to command both Federal and state forces simultaneously (dual-status) to preserve unity of command at the operational level. 
Each state governor can appoint a dual status commander for his or her state, with approval of the Secretary of Defense. The roles and responsibilities for dual status commanders can differ between states and even between different disasters or emergencies.
During the course, Lt. Gen. William Caldwell IV, commanding general, Army North (Fifth Army) and senior commander, Fort Sam Houston and Camp Bullis, described the evolution of military disaster support he has seen from Hurricane Katrina relief efforts to the more recent Superstorm Sandy.
As the commanding general of the 82nd Airborne Division at the time Katrina made landfall, Caldwell described arriving into New Orleans days after the storm and having little guidance on the division's disaster response mission. He then compared that to the development of the National Response Framework and the interagency and military-civilian coordination, now in place, that enabled the Department of Defense to offer lifesaving and life-sustaining capability to the states even before Sandy's landfall.  
"It's about forming those relationships before something happens," said Caldwell.
Read more at Army North: Military leaders refine disaster response operations during course for nation's newest dual-status commanders.
Image: Brig. Gen Michael Swezey, New York Army National Guard addresses attendees at the Dual Status Commanders Course (Sgt. Lee Ezzell, Army North PAO).