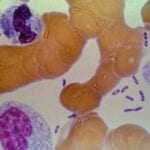 The U.S. Department of Defense has initiated a new research and development effort to address the continuing emergence of multi-drug resistant bacteria and advancements in biotechnology that enable development of genetically engineered, drug-resistant bacteria. 
To address the potential weaponization of multi-drug resistant biological warfare agents the Joint Project Manager Transformational Medical Technologies (JPM-TMT) has issued a Request for Information (RFI) for therapeutic solutions including development of: 
Novel combinations of existing FDA-approved therapeutics that act synergistically
Adjunctive molecules that interfere with antibiotic resistance mechanisms
Novel therapeutic compounds for which there is no known bacterial resistance 
Medical countermeasures against Yersinia pestis, Brucella, Francisella tularensis, Burkholderia mallei and pseudomallei are specifically sought. 
The effort is spearheaded by JPM-TMT's provisional Countermeasures for Multi-Drug Resistance—Bacterial (CMDR-B) program. Further details are available under Solicitation Number: HDTRA1-RFI-TMT01. The response deadline is May 17, 2013. 
Source: JPM-TMT, FBO.gov 
Image: Dark stained bipolar ends of Yersinia pestis can clearly be seen in this Wright's stain of blood from a plague victim (CDC)