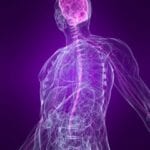 A new study appearing this week in The Lancet describes recipients of the 2009 Influenza A H1N1 monovalent inactivated vaccine as having a slightly higher risk of Guillain-Barré syndrome (GBS), an autoimmune disorder that damages parts of the nerves and causes the body's immune system to attack itself. 
The results were derived from meta-analysis of 23 million people in the U.S. who received the H1N1 vaccine. Researchers discovered that 77 people developed GBS up to 91 days after receiving the "swine flu" vaccine, amounting to 1.6 extra cases of GBS per 1 million people vaccinated. 
Guillain-Barré syndrome can happen at any age, but is most common in men and women between 30 and 50. There is no definitive trigger or cause, but it normally follows a minor infection like a lung or gastrointestinal infection, or after surgery. 
GBS affects the myelin sheath which covers the nerve, damaging it in a process known as demyelination. Symptoms include tingling, muscle weakness and paralysis. People may also lose reflexes in their arms and legs, have low blood pressure, numbness, sensation changes, tenderness or muscle pain and uncoordinated movement. 
The recovery period may be as little as a few weeks or as long as a few years. About 30 percent of those with Guillain-Barré still have a residual weakness after 3 years. Approximately 3 percent may suffer a relapse of muscle weakness and tingling sensations many years after the initial attack, according to the National Institutes of Health. 
Officials from the National Vaccine Program Office at the U.S. Department of Health and Human Services stated that despite the added risk, the vaccines were still beneficial because they were able to help stop the spread of swine flu. Some cases of Guillain-Barré have been linked to previous vaccines, notably in the 1976 swine flu outbreak. 
"In view of the morbidity and mortality caused by 2009 H1N1 influenza and the effectiveness of the vaccine, clinicians, policy makers, and those eligible for vaccination should be assured that the benefits of inactivated pandemic vaccines greatly outweigh the risks," the authors wrote. 
The research was led by Daniel Salmon, Deputy Director of the Institute for Vaccine Safety at the Johns Hopkins Bloomberg School of Public Health.
Read the study at The Lancet: Association between Guillain-Barré syndrome and influenza A (H1N1) 2009 monovalent inactivated vaccines in the USA: a meta-analysis. 
Image credit: Sebastian Kaulitzki