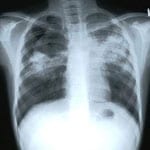 As we mark this year's annual awareness day for tuberculosis—the second greatest killer worldwide due to a single infectious agent—we reflect on our recent coverage of science and policy efforts to improve TB prevention and control.
1. Latent tuberculosis hides out in bone marrow stem cells   Scientists at the Forsyth Institute have gained new insight on how Tuberculosis (TB) remains a global epidemic. Although drugs have been available to fight TB for decades, the disease still infects nearly 2.2 billion people worldwide and causes 1.7 million annual deaths. This is largely attributed to the bacteria's ability to stay dormant in the human body and later resurface as active disease.
2. The ingenious defense mechanism of tuberculosis bacterium   Biologists lead by Joris Messens of the Vrije Universiteit Brussel in Belgium have discovered that the bacterium that causes tuberculosis, Mycobacterium tuberculosis, has an unique defense mechanism against oxygen. 
3. FDA grants priority review for multi-drug resistant tuberculosis treatment   Janssen Research & Development (Janssen) yesterday announced that the U.S. Food and Drug Administration (FDA) has granted Priority Review to the New Drug Application (NDA) for bedaquiline (TMC207) to treat pulmonary, multi-drug resistant tuberculosis (MDR-TB) in adults as part of combination therapy.
4. Top pharma and research institutes partner for 'TB drug accelerator'   A groundbreaking collaborative between drug makers and research institutions seeks to leverage collective abilities to speed up the discovery of essential new treatments for tuberculosis (TB).
5. Tracing TB outbreaks: whole genome sequencing better than standard test   A new form of genetic testing of the bacteria that causes tuberculosis can provide better information on TB transmission and also trace TB outbreaks more accurately than the current standard test, according to a study from Germany published in this week's PLOS Medicine.
6. UC Davis develops new latent TB testing method   Engineers at UC Davis have developed a microfluidic chip to test for latent tuberculosis (TB) which aims to be more reliable, faster and less expensive than current testing options available.
Read more about World TB Day at the WHO website: Director-General's message on World TB Day