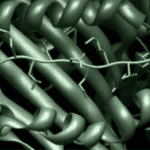 The National Institute of Allergy and Infectious Diseases (NIAID), National Institutes of Health (NIH) has awarded funding to Emory University for the continued operation of the NIH Tetramer Core Facility. 
In 1999, NIAID established the tetramer core facility at Emory as a two year subcontract to the NIAID AIDS Reagent Program (awarded to McKesson BioServices). The tetramer program continued through a separate contract to Emory University, which was set to expire this year. The new award to Emory is valued at $1,899,068.
The main goal of the NIH Tetramer Core Facility is to provide custom-made Major Histocompatibility Complex (MHC) tetramer reagents to the global research community.
MHC tetramers are valuable tools for the rapid and highly sensitive quantitation of antigen-specific T lymphocyte (T cell) from blood or tissue samples. Such assessments of T cell function can offer valuable insights into the magnitude of immune responses during the course of an infection or an immune-mediated disorder, or after vaccination or immune-based therapies. 
MHC tetramers are composed of four identical MHC molecules, each containing an antigen-specific peptide/ligand in the MHC ligand binding groove. The MHC molecules are labeled with biotin, allowing for tetramerization through the addition of a streptavidin-linked fluorophore. Tetramers are produced when the biotinylated MHC molecules attach to the four biotin-binding sites on streptavidin. 
NIAID has Memorandum of Understanding with Beckman Coulter, Inc., owner of commercialization rights for MHC class I tetramer technology. The agreement allows the NIH Tetramer Core Facility to provide specified Beckman Coulter MHC tetramers to the broader research community.
Since opening, the NIH Tetramer Core Facility has produced more than 4000 tetramer reagents, shipped to over 600 investigators in the US and abroad, including at least 15 countries. Investigators requesting reagents incur the cost of peptide production, shipping of the peptides to the NIH Tetramer Core Facility, and shipping of the tetramer reagents to their institution.
Further details are available under RFP-NIAID-DAIT-NIHAI2011132.