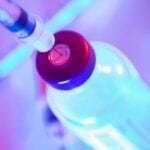 GlaxoSmithKline (GSK) and The Texas A&M University System this month formally announced that the U.S. Department of Health and Human Services (DHHS) has approved the establishment of a $91 million influenza-vaccines manufacturing facility as the anchor of the Center for Innovation in Advanced Development and Manufacturing (CIADM) in Bryan-College Station, Texas.
The announcement was hosted at the Texas State Capitol, and was attended by a number of dignitaries including Texas A&M System Chancellor John Sharp, Dr. Robin Robinson, DHHS Deputy Assistant Secretary and Director of the Biomedical Advanced Research and Development Authority (BARDA), and Antoon Loomans, Senior Vice President, GSK Vaccines.
"The Texas A&M Center, anchored by this facility, is expected to bring more than $41 billion in expenditures within the State of Texas over the next 25 years, and will add more than 6,800 direct and related jobs to Texas," Gov. Rick Perry said.
The Texas A&M Center for Innovation is lead by Dr. Brett Giroir, Vice Chancellor for Strategic Initiatives at the Texas A&M System, and a core team of A&M experts in biotechnology, infectious diseases, facilities planning and construction, federal acquisitions, contracting and government affairs. 
The partnership with GSK was founded on a long, collaborative relationship between Texas A&M and the Wallonia Region of Belgium, with specific planning for this project beginning in the spring of 2010. Once constructed and operational, the Center's influenza manufacturing facility will be able to supply 50 million doses of pandemic influenza vaccine within four months of an outbreak.
"GSK's decision to partner with Texas A&M and bring their vaccine manufacturing to our state is a testament to the investments that the A&M System and the State of Texas have made in the people, infrastructure and technologies, much of which came from critical state programs such as the Emerging Technology Fund," said Dr. Giroir. "GSK brings unequaled influenza vaccine development, manufacturing, and regulatory expertise to our Center." 
The Texas A&M Center for Innovation in Advance Development and Manufacturing (CIADM) is one of three centers established in June, 2012 by DHHS to enhance the nation's emergency preparedness against emerging infectious diseases, including pandemic influenza, and chemical, biological, radiological and nuclear threats.  The Center is founded on an initial $285.6 million investment, including a $176.6 million contribution from the US Department of Health and Human Services, with the remainder cost-shared by commercial and academic proposal partners.
Source: GlaxoSmithKline