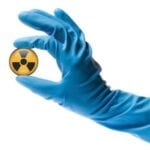 The Defense Threat Reduction Agency (DTRA) is seeking technologies to support post-detonation nuclear forensics in order to attribute an act of terrorism from the use of nuclear weapons to perpetrators. 
The effort is part of the National Technical Nuclear Forensics (NTNF) "post-detonation" research and development program and is focused on prompt signal collection and analysis of an event as well as the isotopic characterization of weapon outputs, traditionally accomplished through examination of fallout debris.
While debris or gas collection strategies that enhance the speed or accuracy of analysis capabilities are of interest, technologies associated with the robotic collection of solid samples are not requested in the current effort.
The need for timely analytical information is crucial to the attribution process.  "In the event of a nuclear detonation, there will be an urgent national requirement to determine the nature and origin of the weapon used and those responsible for the attack," states the solicitation. "A new generation of quantitative analysis tools that can provide timely and accurate qualitative and quantitative identification of nuclear materials in the field or at fixed laboratories is strongly desired."
Innovations that substantially reduce the time to identify and quantify signatures of a nuclear detonation are requested. Potential technologies, processes, and capabilities to rapidly determine and interpret nuclear or radiochemical composition and quantitative isotopics on post-nuclear detonation debris samples (solid or gas) are also sought. Analysis can be unattended or attended in either a field or fixed laboratory location.
Further details are available under Solicitation Number: HDTRA1-13-NTNF-RFI. The response deadline is May 15, 2013.
Image credit: Oak Ridge National Laboratory