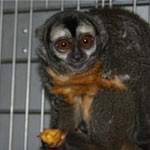 Harvard Medical School announced this week it will be drawing down operations of the New England Primate Research Center (NEPRC) rather than seek to renew a five-year federal grant to continue operations.
The school indicated its leadership had begun to work with the National Institutes of Health (NIH) on a transition plan to end work at the facility within 12 to 24 months.
The news came as somewhat of a surprise to the primate research community. School leaders acknowledged that the decision was extremely difficult in light of the groundbreaking research that has been conducted at the center over the past several decades.
The current challenges and uncertainties of the external funding environment for scientific research were cited as a major factor in the decision. As Harvard Medical School leadership evaluated the long-term need to use its resources in the most effective manner across all of its missions, they came to the conclusion that winding down the operations of the NEPRC was more beneficial to the School than investing further resources in maintaining and renewing the NEPRC grant.
Research accomplishments made possible by NEPRC research with nonhuman primates include:
 First unambiguous evidence that AIDS is caused by a virus.
 Discovery of simian immunodeficiency virus (SIV) and development of the first animal model of AIDS.
 Original demonstration that vaccine protection against AIDS is possible.
 Discovery of the oncogenic herpesvirus, Herpesvirus saimiri.
 First nonhuman primate models of colon cancer and inflammatory bowel disease.
 Evidence leading to the use of hydroxyurea to treat sickle cell anemia.
 Discovery of stunned myocardium and its role in myocardial ischemia.
 First animal model for progressive neurodegeneration in Parkinson's disease.
 Development of improved brain imaging techniques for early diagnosis of Parkinson's disease.
 Development of novel cellular and pharmacological strategies for treatment of Parkinson's disease. 
"We are extremely proud of the contributions the NEPRC has made to improving human heath over the past nearly 50 years," said Jeffrey S. Flier, Dean of the Faculty of Medicine of Harvard University. "We believe primate research is critical to the future of biomedical research and the effective development of lifesaving therapies. The Center's research focus on HIV, infectious disease and vaccines will continue to be effectively pursued through scientific programs throughout HMS."
Read at Harvard: HMS to Wind Down Operations at Primate Research Center
Read at Science Insider: Harvard Medical School to Shutter Primate Research