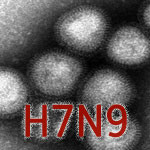 Novavax, Inc. this week announced it has completed purification of a virus-like particle (VLP) vaccine candidate for the emerging H7N9 influenza and has initiated animal immunogenicity and efficacy studies.
The company began work on the strain in early April. Analysis and optimization of the gene sequences for the key viral hemagglutinin (HA) and neuraminidase proteins, synthesis of the genes, construction of a recombinant baculovirus vector, infection of insect cells, purification of the first batches of VLP vaccine, and administration to animals were all completed in 28 days.
In October 2012, the company reported top-line data from its two Phase I clinical trials of A/H5N1 vaccine conducted under the company's $179 million contract with the U.S. Department of Health and Human Services' Biomedical Advanced Research and Development Authority (BARDA). These trials showed that the VLP avian influenza vaccine was immunogenic at conventional doses without adjuvant and induced strong immunogenicity in all its adjuvanted dose groups including the lowest dose of 3.75µg. 
In addition to vaccine homologous antibody responses, cross clade immunity was also demonstrated. Such immunity could be important if a pandemic virus undergoes antigenic drift during a vaccine campaign. 
"The Novavax team has demonstrated that recombinant vaccine technology can be used to rapidly move from identification of a lethal virus, to production of a vaccine," said Dr. Gregory Glenn, Novavax' Chief Medical Officer. "Based on our recent clinical trials with A/H5N1 vaccine that induced 100% seroprotection using low doses of an otherwise poorly immunogenic vaccine, we are optimistic that our A/H7N9 VLP may induce strong immune responses and perform well in animal efficacy testing."
"While our recent A/H5N1 clinical results help demonstrate the potential efficacy and immunogenicity of our pandemic VLP vaccines, we always believed the true test of our platform would be its ability to respond rapidly to an emerging pandemic threat," added Stanley C. Erck, President and Chief Executive Officer. "We have committed to this A/H7N9 campaign without outside funding."
Source: Novovax