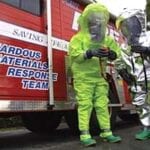 The Department of Homeland Security (DHS) Science and Technology Directorate (S&T) has updated its Long Range Broad Agency Announcement (LRBAA) research topics of interest for First Responder Technologies. 
Proposals for revolutionary, evolving, and maturing technologies that demonstrate the potential for significant improvement in the following applications are sought:
Identification of Important Patterns and Content from Diverse Data Sources Improvements in this Capability can: (1) Prevent incident command and general staff from being overloaded with unmanageable amounts of incident data; (2) Allow incident commanders to synthesize and analyze information to make informed operational decisions. Capability Requirements: (1) Tools to analyze incoming incident data in real-time to identify trends, patterns and anomalies; (2) Policies and standards to utilize such information to inform and improve decision making.
Video Sharing from Incident Scene to Remote Medical Personnel  Improvements in this Capability can: (1) Gather EMS color requirements for compressed video; (2) result in improved compression for video streaming in order to transmit it over the limited available wireless bandwidth. Applications must retain color truth throughout the video system. 
Performance Analysis of Video System Transport Component  Improvements in this Capability can: (1) use different types of cameras (e.g., high definition, low definition) to identify the limits of camera use for streaming video (with or without compression) on a given network; (2) help define network bandwidth requirements for a video applications.
Public Response to Alerts and Warnings on Mobile Devices  Improvements in this Capability can: (1) Improve understanding of the public's response to alerts and warnings, including how to optimize message content, message frequency, education and training, communicating to special populations, message diffusion throughout the public, and trust and validation of messages; (2) Take into consideration current Commercial Mobile Alert Service (CMAS) regulations proposed by the CMSAAC and supported by the FCC, including enhanced geo-targeting features; (3) Understand the use of social media and public participation in origination and dissemination of alerts and warnings including research and testing in the areas of standardization, aggregation and analysis, behavioral response, best practices, and privacy.
Utilzation and Range of Localized Granular Geo-Targeting  Improvements in this Capability can: (1) Accelerate geo- targeting standardization; (2) Enable the creation and establishment of best practices and standard operating procedures for adoption; (3) Focus on areas such as addressing messages across boundaries between targeted regions, differing coverage areas across multiple mobile carrier networks, the challenges of in-building geographies such as airports, and other enhancements to improve the geo-targeting of mobile alerts and warnings using cell broadcast.
Previously listed Chemical and Biological Defense Topics remain unchanged.
The LRBAA is in effect until December 31, 2013. Further details are available under Solicitation Number: DHSS-TLRBAA12-07.