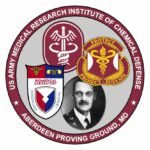 The U.S. Army Medical Research Institute of Chemical Defense (USAMRICD) is seeking synthetic chemistry contract support for the synthesis of novel small molecule bioscavengers based on new FDA approved cyclodextrins. 
The contractor will provide sufficient personnel required for the tasks with technical training equivalent to a Ph.D. level in organic chemistry with a strong background in small molecule synthesis. Personnel must have specific experience in synthetic chemistry as evidenced by publications in peer-reviewed journals.  
Personnel will supplement government workers to synthesize compounds, with purity confirmation by Nuclear Magnetic Resonance (NMR), and mass spectroscopy (MS). 
Further details are available under Solicitation Number: W81XWH-13-T-0178. The response deadline is June 13, 2013. 
##
The United States Army Medical Research Institute of Chemical Defense (USAMRICD) is the lead laboratory for medical chemical defense research for the Department of Defense. The mission of the Institute includes the development of Bioscavengers against organophosphorus nerve agents. In response to the Countermeasures Against Chemical Threats (CounterACT) program, sponsored by the National Institute of Neurological Disorders and Stroke (NINDS), the USAMRICD, in collaboration with five partner institutions, was awarded a Center of Excellence Grant to develop catalytic bioscavengers to protect civilian populations from chemical threat agents.