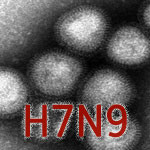 Drug resistance to the primary influenza treatment Tamiflu appears to develop easily with the new H7N9 avian flu, according to a new study recently published in The Lancet.
H7N9 has already demonstrated resistance to the only other class of flu treatments available, known as adamantane drugs, leaving few tools to fight the infections should the virus become more easily transmissible among people.
The study authors found that in 14 H7N9 patient specimens in China, two developed resistance to Tamiflu. Doctors in Taiwan treating a patient that had recently traveled to China identified a third such resistant mutation.
"The apparent ease with which antiviral resistance emerges in (H7N9) viruses is concerning," said the study authors. "It needs to be closely monitored and considered in future pandemic response plans."
The study demonstrated treatment with Tamiflu, even administered 48 hours or more after disease onset, reduced the viral load in the majority of patients and is still a recommended treatment course for H7N9 cases.
Read the study at The Lancet: Association between adverse clinical outcome in human disease caused by novel influenza A H7N9 virus and sustained viral shedding and emergence of antiviral resistance (.pdf)