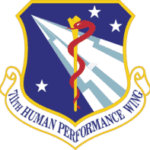 The U.S. Air Force Human Effectiveness Directorate (711 HPW) is seeking proposals to advance technologies for the discovery, characterization, detection and analysis of complex biosignatures in order to provide tools for increased intelligence on the operational environment and for improved human performance.
A biosignature is defined as a measureable feature based upon the presence and physiological status of personnel and their environment.  Biosignatures can be roughly divided into three levels indicating the underlying factors indicative of human involvement:
Micro human biosignatures exist at the molecular level and include such things as indicators of physiological state and presence of environmental compounds or select agents of interest, e.g., heart rate, explosives, biological warfare agents, etc.
Meso level human biosignatures include factors of the individual such as size, shape, motion, and dress.
Macro level biosignatures includes indicators of group dynamics such as gestures and behaviors that would give clues as to ethnicity, role in a group, or possibly geo-political origin. 
All three target levels of complexity will require analytical tools that assist the assessment process.  Micro human biosignatures to be utilized in personnel risk assessments in operational environments are of particular emphasis.
The 711 HPW will collaborate with selected research programs to identify and characterize relevant molecular signatures; develop sensors for the detection of these signatures utilizing molecular, genomic, and nano-bio sensing elements; develop and integrate molecular and biological signature databases; and to develop data analysis tools for processing, exploitation, and dissemination of detected signatures for informed and efficient decision making.  
Further details are available under Solicitation Number: BAA-RQKHB-2013-0003. The response deadline is June 27, 2013.