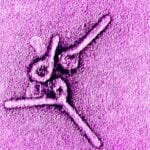 A collaboration of researchers from Zalicus, Inc., University of Virginia School of Medicine and the U.S. Army Medical Research Institute of Infections Diseases (USAMRIID) have shown that the drug clomiphene, which is used to treat female infertility, and toremifene, used to treat breast cancer, can effectively block Ebola infections in mice.
The findings show that these particular pharmaceuticals and others with similar structures appear to prevent the virus from delivering its RNA into the cytoplasm of cells. Without the ability to deliver its genetic payload, the virus degrades quickly and is removed from the body.
"These are among the first FDA-approved compounds shown to be effective against Ebola in mouse models," said Judith M. White, one of the researchers from the University of Virginia. "With a virus this lethal, you want something to combat it."
Ebola infections carry fatality rates of up to 90 percent. It strikes both humans and other primates, and there are fears it could be used as a biological weapon. There's no cure, so it's imperative that scientists find effective treatments. The new discovery eventually could lead to the repurposing of FDA-approved drugs, already available for prescription, to combat the virus.
The findings are the result of an innovative partnership of academia, government and private industry. The potential use of the drugs against Ebola was first identified by investigators at Zalicus and USAMRIID utilizing Zalicus' combination high-throughput screening (cHTS) technology. The investigators then turned to the University of Virginia for its expertise in figuring out how the drugs worked against the virus.
"These data continue to confirm the potential of our combination high-throughput screening technology to identify drug combinations with activity in multiple disease states. The value of our cHTS technology, which has been previously validated in a number of cancer indications, continues to demonstrate promise in infectious disease applications as well," commented Mark H.N. Corrigan, MD, President and CEO of Zalicus. "Our cHTS discovery collaborations with USAMRIID and UVA and pharmaceutical companies such as Novartis validate the value of the cHTS discovery technology to identify novel treatments for diseases."
The findings have been recently published online by the journal Science Translational Medicine: FDA-Approved Selective Estrogen Receptor Modulators Inhibit Ebola Virus Infection.
The researchers plan to continue their collaborative efforts and will look for drugs within the same family that may be even better at battling Ebola than clomiphene and toremifene.