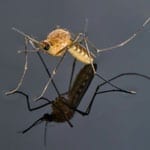 The U.S. Navy Bureau of Medicine and Surgery, in support of the Naval Medical Research Center (NMRC), has awarded a new contract to the Oregon Health and Science University (OHSU) to support malaria vaccine research efforts.
The contract entails evaluation of immunogenicity and protection conferred by CMV vaccine vectors against Plasmodium knowlesi malaria in rhesus monkeys. Plasmodium knowlesi is commonly found in Southeast Asia and can cause malaria in humans.
The period of performance for the contract is for two years beginning in June 2013. The award was designated a sole source procurement in the amount of $245,000.00.
The award was announced under Solicitation Number: N6264513R0022.