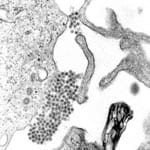 In a recent Naval Medical Research Center (NMRC) Infectious Diseases Directorate seminar, Dr. Subhamoy Pal, a researcher in the Viral and Rickettsial Diseases Department (VRDD), presented his findings on four diagnostics devices: two rapid tests and two enzyme-linked immunosorbent assays. 
These diagnostic devices were evaluated in Asia and South America over a fouryear period at field clinics by collaborators and Navy Medicine researchers from the U.S. Naval Medical Research Unit No. 2 Phnom Penh (NAMRU-2 PP) and U.S. Naval Medical Research Unit No. 6 (NAMRU-6). Dengue fever is an operational problem faced by Department of Defense personnel in dengue endemic countries, where outbreaks can severely compromise mission readiness. 
NMRC researchers, led by Dr. Shuenn-Jue Wu, a VRDD senior scientist, have been evaluating the promising diagnostic tests with the potential to be used by the warfighter in austere environments and by civilians in low-resource settings.
Pal discussed how the performance data and device specifications can be applied to generate concepts of operations for the Military Health System to determine which diagnostic assay would be most suitable for use at each role of care. The data showed that one of the dengue rapid tests fulfills military requirements and can be effective for making medical evacuation decisions as well as for performing triage or laboratory diagnosis in fixed medical treatment facilities.
The study was a collaborative, multi-site effort aimed at obtaining high-quality data for the Food and Drug Administration licensure of useful diagnostic tests for the warfighter. Researchers from NAMRU-6, NAMRU-2 PP, NMRC, and the Armed Forces Research Institute of Medical Sciences in Thailand all contributed to the generation of this high-quality data and evaluation. 
Nearly 100 million people contract symptomatic dengue fever every year around the world. The disease can present with a range of symptoms, some of which can be managed without hospitalization – but the more severe disease can be life-threatening with hemorrhage and shock. Since there is no preventive vaccine or drug to treat it, the only way to appropriately manage dengue infection is to accurately identify the disease, provide appropriate supportive therapies, and watch for warning signs requiring hospitalization and intensive care. 
Article courtesy of Naval Medical Research Center.