A 25-bed hospital sent to Monrovia, Liberia, as part of the Pentagon's Ebola response efforts has officially opened.
"The 25-bed hospital, also known as the Monrovian Medical Unit, officially opened and is fully manned by 65 public health service personnel," said Defense Department spokesman Army Col. Steven Warren in a briefing at the Pentagon today.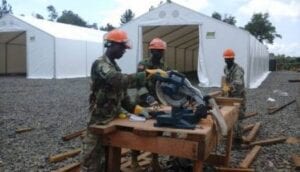 The mobile hospital effort was announced in Sep. 2014, is part of approximately $30 million in program funding approved for DoD's Ebola response efforts — including its delivery and payment for diagnostic equipment, supplies and training.
Col. Warren also said the first Ebola Treatment Unit in Tubmanburg, located in western Liberia, is complete and is being transferred to nongovernmental organization officials today.
U.S. Africa Command supported the Tubmanburg effort by providing command and control, logistics, training and engineering assets.
"As of this weekend, we now have over 2,000 personnel in Liberia helping with the crisis response to Ebola," Warren said.
Read more on this story at DoD News.