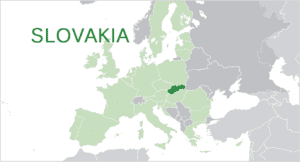 Paratroopers from the 173rd Airborne Brigade, along with soldiers from the Slovak army, participated in combined platoon-sized chemical defense training in Lest, Slovakia as part of Exercise Toxic Lance in March.
The 12-day exercise was the most recent opportunity for the paratroopers from the 173rd Airborne Brigade Special Troops Battalion's Chemical Dismounted Reconnaissance Platoon to participate in chemical training exercise between the two forces.
The exercise focused on unified Chemical, Biological, Radiological and Nuclear (CBRN) tactics, techniques, procedures and operational equipment while in a demanding and hostile environment.
"Working with other allied nations enhances our collective readiness and keeps our partnerships strong," said 1st Lt. Mason X. Delagarza, the CBRN platoon leader. "We're working towards having the capability to seamlessly respond to any CBRN contingency operations on the multinational level."
The training included going into a toxic live-agent facility in Zemianske Kostoľany, Slovakia, in which Soldiers conducted a variety of mission scenarios in a live-agent environment under the control of the Slovak CBRN battalion. Different agents used included: Sarin, Diphosgene, Tabun, Somand and blister agents.
"The live-agent training gave us a more realistic training environment – it allowed Soldiers to gain confidence in operating in a CBRN environment as well as trusting their operational and personal protective equipment," said Sgt. 1st Class Brandon L. Carey, the CBRN platoon sergeant. "This training also sets the stage for more technical and challenging training next time."
U.S and Slovak soldiers worked side-by-side through the process.
"Soldiers were using [each other's] CBRN protective equipment during the exercise and were able to compare the advantages and disadvantages of each," said Lt. Col. Oliver Toderiska, the Slovak battalion commander. "It was very interesting to watch how the Soldiers, though using different CBRN techniques and standard operating procedures could always find the right way to accomplish the mission, meeting the highest standards of performance."
The two platoons also conducted personnel decontamination, equipment decontamination, vehicle decontamination and chemical reconnaissance missions. The training involved day and night missions giving U.S. and Slovak soldiers an opportunity to work cohesively under different conditions for the first time. Smoke, pyrotechnics and stimulants added to the realism of the missions.
"It was our first joint training with the U.S. Army CBRN unit and the training was conducted at a very high standard," said Toderiska. The combined troops "have proven their capability to operate in an international environment which is a great benefit from the exercise for us. I hope that we will be able to host larger U.S. units and face new challenges together as allies."
Article courtesy Cassandra B. McDonald, 173rd Airborne Brigade, edited for context and format. Image: adapted from Wikipedia