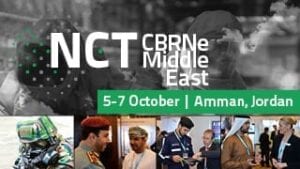 IB Consultancy has established a partnership with the King Abdullah Special Operations Training Center (KASOTC) for the Non-Conventional Threat (NCT) CBRNe Middle East 2015 conference, exhibition and exercise to take place on 5-7 October in Amman, Jordan.
The three-day event will focus on CBRN defense organizations in the Middle East, regional disaster and emergency management approaches, CBRN response from detection and sampling to response and recovery, CBRN preparedness integration, and medical preparedness and response.
KASOTC is an enhanced training center of the Jordan Armed Forces, suitable for tailored courses or training support for special operations units having their own programs.
The Managing Director of IB Consultancy, Mr. Ilja Bonsen, has expressed his gratitude for being able to host a conference in cooperation with such an advanced training center. "Hosting NCT CBRNe Middle East in partnership with KASOTC enables us to offer our audience a more interactive program of both presentations as well as a vibrant interactive tour," he said.
Building on the success NCT CBRNe conference series in Asia, Europe, USA and the Middle East, NCT CBRNe Middle East 2015 will concentrate on the most urgent CBRNe related threats in the Middle East and will bring together experts, end-users, policymakers, industry and procurement staff from all over the region.
The conference will include high-level speakers and governmental delegations from countries such as Jordan, U.A.E., Bahrain, Oman, Saudi-Arabia and many more, providing a regional forum for Armed Forces, Government Agencies and Civil First Responders discussing topical challenges of CBRNe.
Please visit IB Consultancy's NCT CBRNe Middle East website for more information.
Global Biodefense is an official Media Partner of NCT CBRNe Middle East 2015.