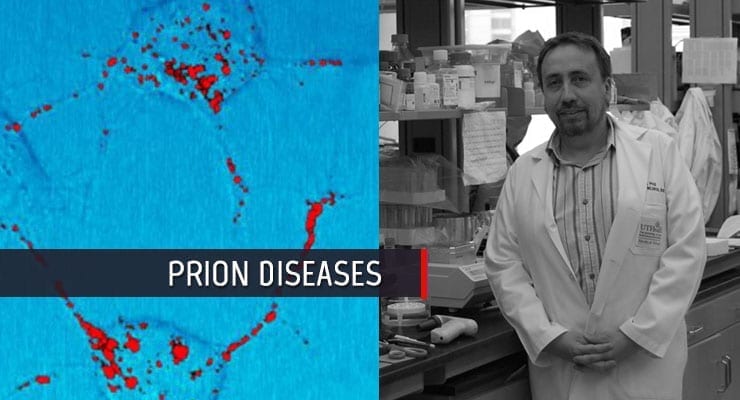 Researchers from McGovern Medical School at The University of Texas Health Science Center at Houston (UTHealth) have been awarded $11 million from the National Institutes of Health to study the pathogenesis, transmission and detection of prion diseases that can potentially spread to humans.
Prions are the protein-based infectious agents responsible for a group of diseases called transmissible spongiform encephalopathies, which includes bovine spongiform encephalopathy (mad cow disease) in cattle, scrapie in sheep, variant Creutzfeldt-Jakob disease in humans and chronic wasting disease (CWD) in deer, elk and moose. All are fatal brain diseases with incubation periods that last years or even decades.
Read also: Prion Disease: New Test May Aid Detection of Deadly TSE
In previous laboratory research, lead researcher Claudio Soto, Ph.D. and colleagues including Glenn C. Telling, Ph.D. and Edward Hoover, D.V.M., Ph.D. of Colorado State University reported that grass plants can bind, uptake and transport infectious prions.
The team also found that plants can uptake prions from contaminated soil and transport them to different parts of the plant, which can act as carriers of infectivity. This suggested that plants may play an important role in environmental prion contamination and the horizontal transmission of the disease. That research also received funding from the NIH.
"Dr. Soto's pioneering work on prions and their link to devastating brain diseases is receiving national attention," said Barbara J. Stoll, M.D., dean and H. Wayne Hightower Distinguished Professor in the Medical Sciences at McGovern Medical School. "His impressive funding record from the National Institutes of Health is further testimony to Dr. Soto's important and innovative work."
The new research focuses on CWD in the laboratory and the environment, particularly the route of disease transmission among animals. CWD was first diagnosed in mule deer in Colorado in the late 1960s and has spread across the country into 20 states, according to the Centers for Disease Control and Prevention (CDC), including the counties of El Paso and Hudspeth in Texas. In northeastern Colorado and southeastern Wyoming, the disease is endemic.
Soto will explore the zoonotic – the ability to transfer from animal to human – potential of CWD and factors that may alter the resistance of humans to that transfer. His team at McGovern Medical School will also investigate the possibility that prions accumulate in the environment in plants and other surfaces where they may concentrate and remain infectious for years.
Read also: Nasal Test Developed for Human Prion Disease
This project includes some of the most accomplished prion researchers in the United States. The team of Hoover and Jason C. Bartz, Ph.D., of Creighton University, will look at the role of the interaction between prions and the environment, both in preclinical lab studies and in the field in native cervids – the class of hoofed animal that includes deer, elk and moose. Telling's group will study the molecular mechanisms behind prion replication and factors that affect the generation, mutation and evolution of prion strains, as well as the barrier that prevents prion diseases from jumping to another species.
To minimize the risk of exposure to CWD, the CDC recommends that people avoid eating meat from deer and elk that look sick or test positive for CWD. Hunters who field-dress deer in an affected area should wear gloves and minimize handling of the brain and spinal cord tissues. The infectious agents that transmit prion diseases are resistant to inactivation by heat and chemicals.