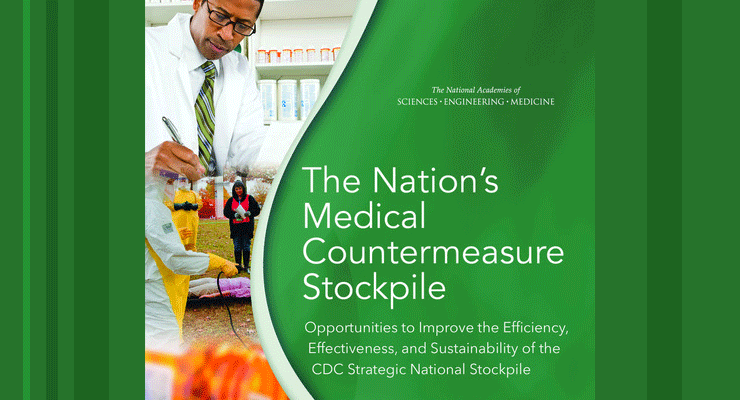 In cases of natural or engineered disasters, such as a terrorist attack, influenza pandemic, or earthquake, state or local authorities can request that the U.S. federal government provide assets from the Strategic National Stockpile to augment the state and local jurisdictions' resources.
The Centers for Disease Control and Prevention's (CDC's) Strategic National Stockpile (SNS) is the nation's repository of antibiotics, chemical antidotes, antitoxins, vaccines, antiviral drugs, and other medical materiel designed to supplement and resupply state and local public health agencies in the event of an emergency.
The materiel is intended to support national health security and is managed by the Office of Public Health Preparedness and Response's (OPHPR's) Division of Strategic National Stockpile (DSNS). The stated mission of the SNS is to prepare and support partners and provide the right resources at the right time to secure the nation's health.
The National Academies of Sciences, Engineering, and Medicine recently organized a two-day public workshop to explore opportunities to improve the efficiency, effectiveness, and sustainable methods used by the CDC's SNS to distribute medical countermeasures and other supplies during disasters and other public health emergencies, especially those which result in disruption of physical infrastructure such as the electrical grid, central roadways, bridges, and tunnels within the impacted community.
Participants explored relevant distribution lessons learned from other federal agency stockpiles and the private sector as well as opportunities to develop public-private collaborations in the purchase, warehousing, management, and distribution of medical countermeasures.
Highlighted topic areas included:
SNS Policy Foundations and Congressional Context
Federal Medical Countermeasures Enterprise Partnerships
Anticipated Responsibilities of the SNS in the Year 2020
A National Blueprint for Biodefense: Leadership and Major Reform Needed
Public Health Emergency Medical Countermeasures Enterprise Review
Potential Opportunity to Reexamine the Mission and Scope of SNS
Promoting Visibility of the Public Health Enterprise
Implementing a Scientific Perspective for Risk Analysis, Inventory, and Decision Making
Perspective of Public Health Departments at the State and Local Levels
Alternative Distribution and Dispensing Model Opportunities
Strengthening the Public Health Response Supply Chain
Understanding and Leveraging Practices of the Commercial Supply Chain
Improving Engagement with the Commercial and Pharmaceutical Industries
Potential Opportunity for Improved Electronic Data Interchange
The workshop is summarized in a recently released report: The Nation's Medical Countermeasure Stockpile: Opportunities to Improve the Efficiency, Effectiveness, and Sustainability of the CDC Strategic National Stockpile: Workshop Summary.