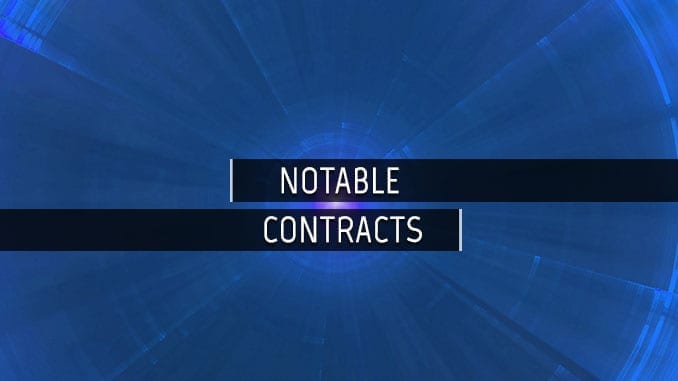 The U.S. Department of Health and Human Services has awarded a new contract to Emergent Biosolutions to support advanced development and delivery of its next-generation anthrax vaccine.
The NuThrax vaccine (anthrax vaccine adsorbed with CPG 7909 adjuvant), also known as AV7909, the company's next generation anthrax vaccine candidate.
The contract consists of a five-year base period of performance valued at $198,705,042 to develop NuThrax for post-exposure prophylaxis of anthrax disease and to deliver to the Strategic National Stockpile (SNS) an initial two million doses following Emergency Use Authorization (EUA) pre-approval by the U.S. Food and Drug Administration (FDA).
The contract also includes procurement options for the delivery of an additional 7.5 million to 50 million doses of NuThrax to the SNS, valued from approximately $255 million to up to $1.4 billion, respectively, and options for an additional clinical study and post-marketing commitments valued at $48 million, which if both were to be exercised in full, would increase the total contract value to up to $1.6 billion.
The effort is overseen by the Biomedical Advanced Research and Development Authority (BARDA), within HHS' Office of the Assistant Secretary for Preparedness and Response.
NuThrax is comprised of BioThrax (Anthrax Vaccine Adsorbed) in combination with the immunostimulatory oligodeoxynucleotide compound CPG 7909. Its safety, efficacy, and stability have been established through several Phase 1 and Phase 2 clinical studies.
Prior to this contract, Emergent has received five grants and contracts funded by BARDA and the National Institute of Allergy and Infectious Diseases totaling approximately $127 million for the early stage and advanced development of NuThrax, including development of a dry formulation for the vaccine candidate.
Anthrax is an acute infectious disease caused by the spore-forming bacterium Bacillius anthracis, which can cause human disease via gastrointestinal, cutaneous, or inhalation (pulmonary) routes. The 2014 Public Health Emergency Medical Countermeasures Enterprise (PHEMCE) Strategy and Implementation Plan identifies anthrax as a high-priority threat as determined by the Secretary of Homeland Security. Strategies to mitigate anthrax as a biothreat against civilian populations include the development of an anthrax vaccine suitable for Post-Exposure Prophylaxis (PEP) as a priority medical countermeasure.
NuThrax and BioThrax are registered, protected terms of Emergent Biosolutions.