A global coalition to create new vaccines for emerging infectious diseases, designed to help give the world an insurance policy against epidemics, launched this week at the World Economic Forum in Davos, Switzerland.
With an initial investment of US$460m from the governments of Germany, Japan and Norway, plus the Bill & Melinda Gates Foundation and the Wellcome Trust, CEPI – the Coalition for Epidemic Preparedness Innovations will seek to outsmart epidemics by developing safe and effective vaccines against known infectious disease threats that could be deployed rapidly to contain outbreaks, before they become global health emergencies.
"There is an urgent need for new vaccines, diagnostics and treatments to prevent and treat emerging infections with epidemic potential. For new vaccines to be game changers, they must be developed and tested before outbreaks hit and made accessible and affordable for all communities in times of health crisis," noted Dr. Joanne Liu, International President of Médecins Sans Frontières / Doctors Without Borders. "These are the conditions that will determine CEPI's success and ensure this new initiative saves lives."
CEPI also hopes to shorten the time it takes to develop new vaccines to protect against viruses that emerge suddenly as public health threats, as Zika did recently, by capitalizing on exciting developments in adaptable vaccine technology and investing in facilities that could respond quickly to previously unknown pathogens.
Today's financial commitments mean that CEPI has raised almost half of the $1bn it needs for its first five years, and it is now calling for proposals from researchers and companies around the world to support the development of vaccines against its first target diseases.
CEPI will initially target the MERS-CoV, Lassa and Nipah viruses, which have known potential to cause serious epidemics. It aims to develop two promising vaccine candidates against each of these diseases before any epidemic, so these are available without delay if and when an outbreak begins. CEPI will also scope out potential support for vaccines against multiple strains of the Ebola and Marburg viruses, and Zika.
To achieve all these goals, CEPI will need significant additional investment, and the initial CEPI funders are calling today for other governments and philanthropic organizations to join them in helping to protect the world against future epidemics. CEPI is looking to complete its fundraising by the end of 2017.
"Ebola and Zika showed that the world is tragically unprepared to detect local outbreaks and respond quickly enough to prevent them from becoming global pandemics. Without investments in research and development, we will remain unequipped when we face the next threat," said Bill Gates, Co-chair of the Bill and Melinda Gates Foundation.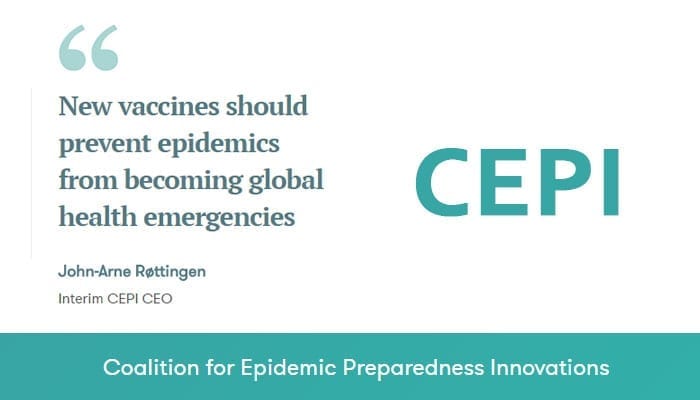 CEPI is a direct response to calls from four independent expert reports into the Ebola epidemic for a new system for stimulating the development of vaccines against epidemic threats. It was founded by the governments of India and Norway, the Bill & Melinda Gates Foundation, Wellcome and the World Economic Forum, which has played a key convening role, bringing together stakeholders at the 2016 Davos meeting and other events.
CEPI is also backed by major pharmaceutical corporations, the World Health Organization and Médecins Sans Frontières / Doctors Without Borders, as well as philanthropies and leading academic vaccine research groups.
"Only by working together can we address barriers to vaccine development and prevent and contain infectious global health epidemics," said Nima Farzan, PaxVax President and CEO, who represents the Biotechnology Innovation Organisation on CEPI's interim board." Working alone, industry players face barriers to vaccine development. CEPI's collaborative approach is vital in helping biotechs and other industry leaders pursue innovative efforts to help prepare against future pandemics and fight against global public health threats."
The Government of India is currently finalizing the level of a significant funding commitment to CEPI. In addition to financing for vaccine development that will be available through CEPI's pooled fund, the European Commission will contribute to CEPI's objectives and plans to co-fund actions with CEPI, such as through the Innovative Medicines Initiative (IMI).