The Johns Hopkins Center for Health Security has maintained a fellowship since 2012 that seeks to provide opportunities for biosecurity professionals and helps to broaden their careers through contacts and experiences. The Emerging Leader in Biosecurity Initiative (ELBI) program is something I've been striving to join for years. I'll admit it – it wasn't my first time applying and while this is a highly competitive group, I was definitely disappointed when I didn't get that acceptance email. Fortunately, 2017 was my year and I was selected as an ELBI fellow and that's where this adventure begins.
I am currently a PhD student in Biodefense at George Mason University and come from a background in healthcare infection control and infectious disease epidemiology. While this doesn't exactly scream "biosecurity professional", the truth is that this field is pretty broad and you'd be surprised how many diverse people are involved in health security. Each year, ELBI fellows are selected and funded to support travel to three events held by the Center (our nickname for the Johns Hopkins Center for Health Security). In 2017, we would attend a workshop in Washington D.C., a research symposium in Baltimore, MD, and then a last workshop in Boston, MA.
The first trip for the ELBI 2017 class was in March and the workshop revolved around U.S. biosecurity efforts. This first workshop was a whirlwind – we went to the White House to discuss biosecurity with White House National Security Council staff, heard from the Center's CEO and Director Tom Inglesby, etc. Perhaps one of the best parts of this first workshop was getting to meet and listen to people whose articles and work I have read (and studied for class) and become a huge fan of. Gigi Gronvall, Beth Cameron, Amanda Moodie, and Jason Matheny to name a few – all of whom were so engaging and friendly to our group of biosecurity nerds. During some of the talks on biodefense and health security, I'll admit that I was pretty proud with how much I already knew (thanks GMU!) but getting to actually pick the brains of not only our speakers, but also my fellow EBLI fellows, that's what really makes it. This is perhaps one of the strongest and best parts of the fellowship – the friendships and contacts you make. Health security is a dynamic field and it can be nerve-wracking to try and find your place in it. The truth is that all the ELBI fellows are in that same position and the people from Center are just as excited for you to be there and soak up the knowledge as you are.
The second ELBI event for my cohort was a newly held research symposium in their hometown of Baltimore, MD. Current and former ELBI fellows were encouraged to submit abstracts that could be selected as presentations for a two-day research and policy seminar. Before the symposium began though, we were given the opportunity to tour the Johns Hopkins Hospital Biocontainment Unit. This infection prevention epidemiologist almost leapt for joy when entering the BCU as it's been a dream to see one of these amazing hospital units designated to handle high-consequence pathogens.
After the BCU tour we began what I can only describe as a two-day marathon of some of the most interesting talks and debates in health security. Speakers like Nick Evans discussed policy challenges when declaring public health emergencies, two of our 2017 fellows from the UK discussed laboratory biosecurity and biosafety, Megan Palmer talked about social responsibility in synthetic biology, and we heard from countless other amazing fellows on everything from healthcare preparedness to risk assessments and antimicrobial stewardship. I was fortunate to present on infection control in biodefense efforts but I'll admit, the real treat was getting to hear some of the other ELBI fellow talks. The 2017 ELBI class is especially lucky as we have a member from NASA who blew us all away with her talk on returning extraterrestrial samples to earth in the search for life outside the solar system. That's right, we had a talk about potential alien microbe containment – could it get any cooler? The Boston symposium closed out with Tom Inglesby discussing global catastrophic biological risks, which inspired some pretty fascinating (and hysterical, but that's what you get with the ELBI folks) discussions.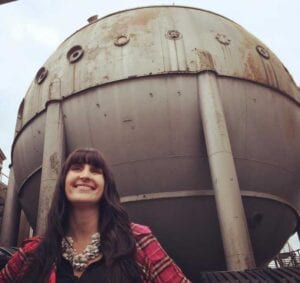 Our last workshop was in Boston, where we were lucky to tour the George Church Lab and the Ginkgo Bioworks labs, which even as a person with limited lab experience, was beyond impressive and captivating. We also heard from speakers like Helen Branswell from STAT News, Ed You from the FBI spoke to us about biosecurity and law enforcement (he's pretty much a biosecurity super hero), and Peter Carr from MIT's Lincoln Laboratory. The Boston trip was pretty heavy on synthetic biology, as it's increasingly become a concern for health security, and I was amazed to hear from such a diverse group of people as well as a panel on potential pandemic pathogens. In true ELBI fashion, we closed out our last workshop with an exercise involving highly infectious diseases, global collaborative public health, and bioterrorism. I had read about the Viral Storm exercise when it was first designed but getting to participate in it with not only our ELBI class, but also analysts from the Center, was truly a once in a lifetime opportunity.
The ELBI fellowship isn't just about the trips though, but sincerely the connections and guidance you receive from your cohort, the Center, and even the speakers who chat with you afterwards. The Center is always sending out career opportunities and chances for people to attend lectures and seminars they host. They have also provided several opportunities for fellows (past and present) to be awarded funding for amazing opportunities, like the SB7.0 SynBio conference in Singapore or the Biological Weapons Convention Meeting of States Parties in Geneva (yours truly was selected for this and it honestly is a biodefense student's dream to attend).
The ELBI fellowship is a wholly beneficial experience that you'll walk away from with not only a wealth of knowledge but also some great friends and contacts. My ELBI cohort has become a tight-nit group of health security nerds who became friends and still work to get together over happy hour or brunch. The staff from the Center are also one of the gems that comes along with becoming an ELBI fellow. They are undoubtedly some of the smartest, most passionate, and welcoming people I've had the chance to know. It can be intimidating coming into the first workshop and hearing everyone's bio and experiences, but rest assured, the Center staff make this unease dissipate through sincere engagement and interest in your perspective. That's the great part about this whole experience – everyone wants to learn. Everyone wants to hear about what you do and soak in every tidbit of information so they can be a better health security participant.
In short – this is an opportunity I am eternally grateful for. The knowledge, experiences, contacts, and definitely the laughter that goes into the ELBI experience makes it so wonderful. Imagine a room full of people passionate about the same thing and wanting to learn and invest in the future – that's what you get with the ELBI fellowship. As application season for the 2018 class begins, I'm sad that my year is over however, I can't deny the excitement for the future EBLI fellows and all that they'll do.
Saskia Popescu, PhD, MPH, MA, CIC, is an infection prevention epidemiologist and biodefense researcher whose work primarily focuses on the role of infection prevention in global health security and biodefense efforts. She holds a PhD in Biodefense from George Mason University, a Master's in Public Health in Epidemiology, a Masters of Arts in International Security Studies, and a Bachelor's Degree in Classical History, with a specialization on disease in ancient Rome, from the University of Arizona. She is a certified infection preventionist and fellow of the Johns Hopkins Center for Health Security Emerging Leaders in Biosecurity Initiative. She can be reached at spopesc2@gmu.edu