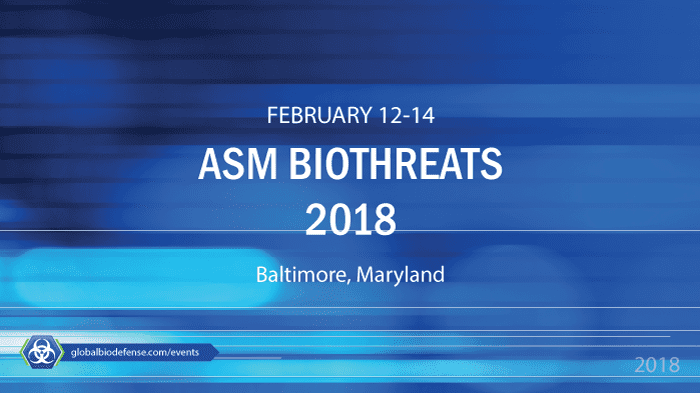 The American Society for Microbiology's ASM Biothreats 2018 meeting is taking place February 12-14, 2018 in Baltimore, Maryland.
ASM Biothreats includes tracks on high consequence pathogen research, biological threat reduction, product development, and policy. Thought leaders in academia, industry and government are gathered to present and discuss the latest developments in this emerging field.
Keynote speakers include: Richard Harris, NPR Science Desk; Ilaria Capua, DVM, Ph.D., Director, One Health Center for Excellence; and Robert Kadlec, M.D., Assistant Secretary for Preparedness and Response, U.S. Dept. of Health and Human Services.
Exhibits and poster sessions are scheduled for 13-14 Feb.
Read more:
Top tweets from #ASMBiothreats
ASM Biothreats 2018 — final program https://t.co/npKCKq6jid pic.twitter.com/lRTZohTq4s

— Greg Folkers (@greg_folkers) February 12, 2018
Biological incidents, either unintentional or intentional, are also a threat. Ensuring ethical use of dual-use research of concern is one place ASM + its members can play a role #ASMBiothreats

— ASM (@ASMicrobiology) February 12, 2018
Dr. Kadlec: By leveraging strong partnerships & sound science, @BARDA has built a robust portfolio of medical countermeasures needed to fight pandemic influenza & emerging infectious disease, #AMR & #CBRN threats. #ASMBiothreats pic.twitter.com/FKnmySdjPH

— ASPR (@PHEgov) February 12, 2018
Dr. Kadlec: ASPR will continue to improve our national public health and medical readiness and response capabilities by focusing on four key areas. #ASMBiothreats pic.twitter.com/m2RhCu4bov

— ASPR (@PHEgov) February 12, 2018
Come see our Susan Houser in booth 15 at ASM BioThreats this week. Battelle provides GLP-compliant, preclinical services to government and commercial clients. @ASMicrobiology #ASMBiothreats https://t.co/830eov2YTp pic.twitter.com/n8eRSupf0j

— Battelle (@Battelle) February 12, 2018
Rapid diagnostics to address #amr #ASMBiothreats pic.twitter.com/ns3Ftu2oXj

— Jamechia Hoyle (@jamechiahoyle) February 11, 2018
4 principle pillars in a forthcoming National Health Security Strategy will build readiness for 21st century threats:
1. Strong leadership;
2. Regional disaster healthcare systems;
3. Medical countermeasures enterprise;
4. The public health security capacity #ASMBiothreats

— ASM (@ASMicrobiology) February 12, 2018
Stop by Booth 26 at #ASMBiothreats to talk to our infectious disease experts. Learn about our animal models and GLP compliant toxicology and safety services.

— IITRI (@IITRI_Chicago) February 12, 2018
Who would have thought to put a human Ab repertoire in a cow?? Awesome! #ASMBiothreats

— mbiottu (@mbiottu) February 12, 2018
.@PNNLab's Rachel Bartholomew & Kristen Omberg will be sharing B-PLAT, a framework of the #biodefense policy enterprise, at the @ASMicrobiology #ASMBiothreats Policy Townhall on Tuesday! Learn more at https://t.co/oFU6BU73eG. https://t.co/fjxK48ccoo

— National Security (@PNNLNatSec) February 12, 2018
Joram Buza from Tanzania: Bushmeat Biosecurity Research group used to combat anthrax outbreak in animals and people #asmbiothreats https://t.co/QZDjS231wY

— HartmanLab 👩‍🔬🏊🏻 (@RogueRifter) February 12, 2018
See the latest tool outlining the framework of the biodefense policy enterprise: B-PLAT – at Tuesday's Policy TownHall. #bplat #ASMBiothreats @ASMicrobiology @PNNLab pic.twitter.com/TqBCpRQsEW

— rabartholomew (@rabartholomew) February 11, 2018
Waiting for the "We Are the World" session to begin, listening to "We are the world." What other #ASMBiothreats sessions have their own sound track?

— Julie Wolf (@JulieMarieWolf) February 12, 2018
Visit #ASMBiothreats Booth 31 next week to find out more about our disease detection & biosecurity work in N'Djamena & beyond. Thankful 4 @USDHAPP support 2 work alongside #Chad & #Mali Military who fight #HIV #AIDS every day #USDOD #biosafe pic.twitter.com/XMzLVdFKWI

— GSS Health (@GSSHealth) February 7, 2018