ASM Biothreats 2018
February 12, 2018

-

February 14, 2018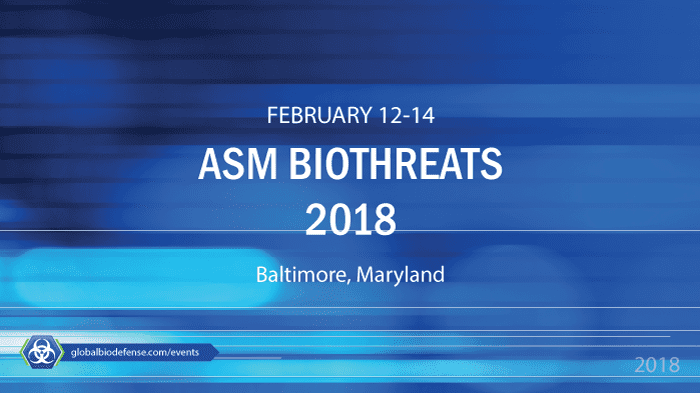 The American Society for Microbiology's ASM Biothreats 2018 meeting will be held February 12-14, 2018 in Baltimore, Maryland.
ASM Biothreats includes tracks on high consequence pathogen research, biological threat reduction, product development, and policy. Thought leaders in academia, industry and government will gather to present and discuss the latest developments in this emerging field.
Highlighted session topics include:
The Background and Future Direction of P3CO
What's Old is New Again: Live Attenuated Vaccines against Biothreats
Beyond the Animal Rule: Licensing MCMs under Alternative Regulatory Strategies
Exploring the Future of Biodefense in the U.S. Biological Threat Reduction
The Intersection of Big Data and Biothreats
Polyclonal Antibodies: An Essential Element in Addressing Existing and Future Biothreats
The International Landscape of Biodefense: New Terrain
Pills and Needles: Rapid Development and Deployment of Countermeasures
1918-2018: The Past, Present and Future for Influenza Pandemics
Drug Development Tools I: Animal Models for Biothreats
Wearable Technology for Population Health Assessment
Case Study on the Synthetic Creation of Horsepox: Promising Vaccine Study or Biosecurity Risk?
Select Agent Toxins: Finding, Dissecting, and use as Human Therapies
Artificial Intelligence for Biosurveillance
Platform Technologies to Speed Biothreat Medical Countermeasure Development
Computational Approaches to Improving Infectious Disease Drug Development
Microbial Forensics: Beyond the Select Agents List
This year's meeting incorporates a platform for students and early career professionals to share their science and connect with a diverse community of experts.
Please visit the ASM Biothreats 2018 website for more information and registration.