The U.S. Department of Health and Human Services (HHS) and Department of Defense (DoD) today released new documents outlining the Trump Administration's detailed strategy to deliver safe and effective COVID-19 vaccine doses to the American people as quickly and reliably as possible. 
The documents, developed by HHS in coordination with DoD and the Centers for Disease Control and Prevention (CDC), provide a strategic distribution overview along with an interim playbook for state, tribal, territorial, and local public health programs and their partners on how to plan and operationalize a vaccination response to COVID-19.
CDC Immunization and Vaccines for Children Cooperative Agreement funding awardees have been directed to incorporate the new guidance into local jurisdiction planning and submit their COVID-19 vaccination plans to their CDC project officer by October 16, 2020.
The strategic overview lays out four tasks necessary for the COVID-19 vaccine program:
Engage with state, tribal, territorial, and local partners, other stakeholders, and the public to communicate public health information around the vaccine and promote vaccine confidence and uptake.
Distribute vaccines immediately upon granting of Emergency Use Authorization/ Biologics License Application, using a transparently developed, phased allocation methodology and CDC has made vaccine recommendations.
Ensure safe administration of the vaccine and availability of administration supplies.
Monitor necessary data from the vaccination program through an information technology (IT) system capable of supporting and tracking distribution, administration, and other necessary data.
On August 14, CDC executed an existing contract option with McKesson Corporation to support vaccine distribution. The company also distributed the H1N1 vaccine during the H1N1 pandemic in 2009-2010. The current contract with McKesson, awarded as part of a competitive bidding process in 2016, includes an option for the distribution of vaccines in the event of a pandemic.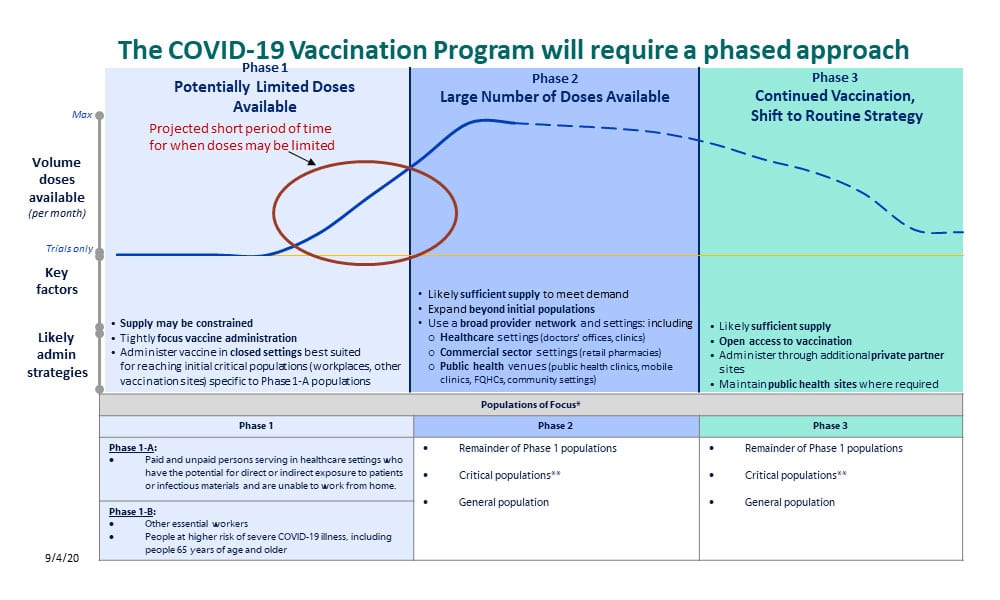 "Through the Advisory Committee on Immunization Practices, CDC will play a vital role in deciding, based on input from experts and stakeholders, how initial, limited vaccine doses will be allocated and distributed while reliably producing more than 100 million doses by January 2021," said CDC Director Robert Redfield.
Detailed planning is ongoing to ensure rapid distribution as soon as the FDA authorizes or approves a COVID-19 vaccine and CDC makes recommendations for who should receive initial doses. These decisions will be partially informed by the proven efficacy of the vaccines coming out of Phase 3 trials, but populations of focus for initial COVID-19 vaccination may include:
Healthcare personnel likely to be exposed to or treat people with COVID-19.
People at increased risk for severe illness from COVID-19, including those with underlying medical conditions and people 65 years of age and older
Other essential workers
Once the final decisions about phased rollouts of the vaccines are made, McKesson will work under CDC's guidance, with logistical support from DoD, to ship COVID-19 vaccines to administration sites.