Aspen Security Forum 2016
July 27, 2016

-

July 30, 2016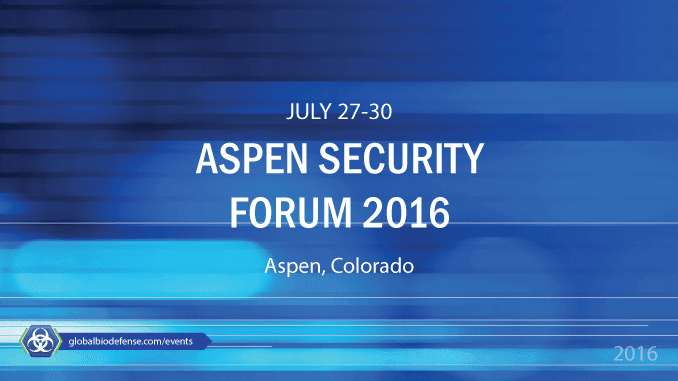 The annual Aspen Security Forum will be held July 27-30, 2016 in Aspen, Colorado.
This event explores the current security issues with top level present and former government officials from all relevant agencies such as the Departments of Homeland Security, Defense, State, Justice, and the Treasury; as well leaders from industry, think tanks and academia.
Highlighted participants include:
US Army Chief of Staff General Mark Milley
Transportation Security Administration Administrator Peter Neffenger
Former Director of National Intelligence John Negroponte
Assistant Secretary of State for European and Eurasian Affairs Victoria Nuland
National Counterterrorism Center Director Nicholas Rasmussen
Assistant Attorney General for National Security John Carlin
Director of National Intelligence James Clapper
European Union Counterterrorism Coordinator Gilles de Kerchove
United Nations Special Envoy for Syria Staffan de Mistura
Chairman of the Joint Chiefs of Staff General Joseph Dunford
Ambassador of Iraq to the United States Lukman Faily
Center on National Security at Fordham University of Law Director Karen Greenberg
Assistant Secretary of the Treasury for Intelligence and Analysis S. Leslie Ireland
Ambassador of the Russian Federation to the United States Sergey Kislyak
Administrator for the National Nuclear Security Administration Lt Gen Frank Klotz
Former British Secret Intelligence Service Chief John Scarlett
US Representative for California's 28th Congressional District Adam Schiff
Under Secretary of State for Civilian Security, Democracy, and Human Rights Sarah Sewall
Assistant Secretary of Defense for International Security Affairs Elissa Slotkin
National Intelligence Council Chairman Gregory Treverton
Ambassador of Germany to the United States Peter Wittig
The event is hosted in partnership with CNN, presents the seventh annual Aspen Security Forum, and a live stream will be available at http://aspensecurityforum.org/media/.
Please visit the Aspen Security Conference for more information and registration.