Military Health System Research Symposium
August 15, 2016

-

August 18, 2016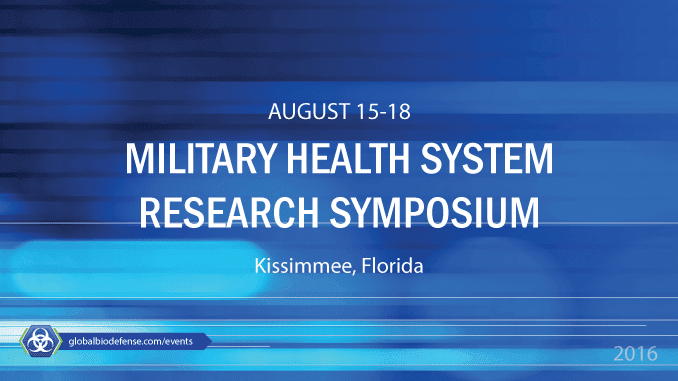 The 2016 Military Health System Research Symposium (MHSRS) will be held August 15-18, 2016 in Kissimmee, Florida.
The MHSRS provides a scholarly forum for the planning and development of future studies aimed at optimizing care for members of the Uniformed Services in operational settings. Held in a collaborative, joint setting, it enables military medical care providers with deployment experience to exchange information with Department of Defense and academic scientists, international partners, and industry.
The event offers 40+ scientific breakout sessions and over 1,000 poster presentations. Highlighted topic areas include:
Impact of infectious disease on military operations
OCONUS disease surveillance
Emerging viral infectious diseases to include Zika virus, MersCoV, Chikungunya
Case reports of specific diseases (malaria, dengue, travelers' diarrhea)
Ongoing efforts in product development of diagnostics, therapeutics, and vaccines
Historical infection challenges in trainees (influenza, adenovirus, group A Strep)
Current surveillance data in trainee populations
Re-emergence of naturally occurring viral infectious diseases in DoD personnel to include norovirus, measles and mumps
Medical countermeasures against acute radiation exposure
Impact of skin and soft tissue infections in DoD personnel
Surveillance and characterization of drug resistance in acute/chronic wound infections
Stem cell therapeutics and their utility in treatment of wound infections
Outcome of DoD interventions during Ebola support deployments
Microbiome as a surveillance tool
Future impact of viral vaccines on DoD readiness
Please visit the Military Health System Research Symposium website for more information.