Biosensors, Biomarkers & Diagnostics 2017
May 25, 2017

-

May 26, 2017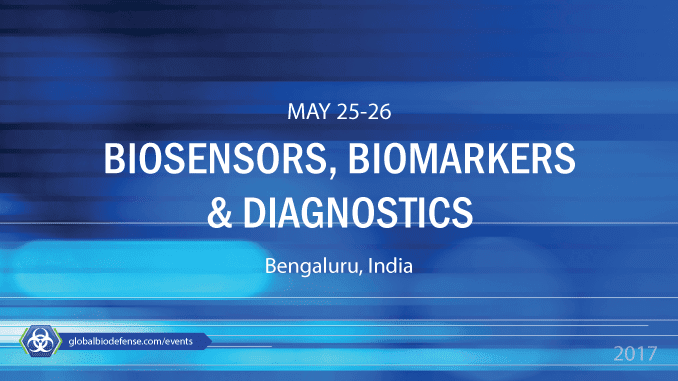 Select Bio's Biosensors, Biomarkers & Diagnostics 2017 conference will be held May 25-26, 2017 in Bengaluru, India.
This conference covers talks on novel biosensors and biomarkers, molecular pathway involved in the pathophysiology of the disease, prenatal diagnostic tests, macromolecule analysis, screening for infectious diseases, cytogenetic profiling, bio-imaging as well as molecular and companion diagnostics.
This event is designed for scientists from the fields of Medicine, Pathology, Pharmaceutical sciences, Biotechnology and Diagnostics, medical colleges, pharma, biotech and diagnostic companies, leading universities, clinical research institutions, government and national research labs, CROs, emerging companies and tool providers working in the field of Biosensors, Biomarkers and Medical Diagnostics.
Highlighted topics include:
Advanced Approaches & Techniques in Disease Diagnosis
Case Studies – From Biomarkers Research to Commercial Product
Commercial Aspects & Regulatory Compliance in Molecular Diagnostics
Extracellular Biomarkers/Cell Free Biomarkers
Novel Biosensors for Medical Diagnostics
Prognostic, Predictive and POC: Biomarkers from Research to Clinic
Please visit the Biosensors, Biomarkers & Diagnostics conference website for more information and registration.